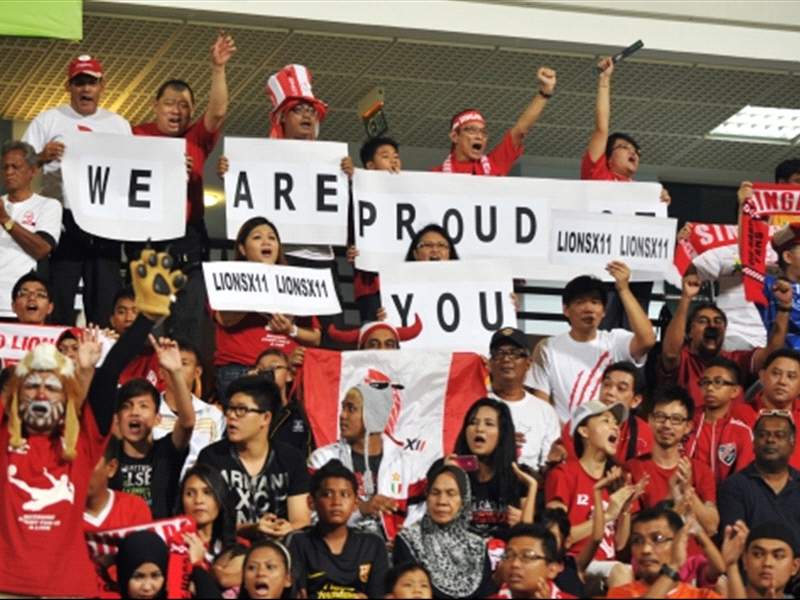 Since my coming to Singapore in April, I've been buzzing around local football. I supported the LionsXII at each home game, I followed the national team and the S.League, and I was there for the Lion City Cup as well.
There are surely a lot of things I still don't know and don't understand, but as a famous Buddhist monk once said: "In the beginner's mind there are many possibilities, while in the expert's mind there are few."
So, here's my five cents.
Football-wise, Singapore and the whole region nowadays find themselves in a very peculiar situation - While there is limited experience, structures and talent, the whole of South East Asia is populated by millions of football-addicted supporters. I mean, where else outside of England would people stay up past midnight to watch a Wigan-Sunderland match?
So the main challenge here is to develop a product (meaning clubs and competitions) that can capture the imagination of the people as the English Premier League does, similarly, as the J.League did in the early nineties.
Looking around the region, there is clearly a growing football scene and a lot of goodwill, but the number of top-players is limited and thus it would certainly make sense to concentrate them in an international Asean League, a concept that has already been backed, among others, by a visionary entrepreneur such as Tony Fernandes of AirAsia fame.
As I see that as the only possible option for Southeast Asian football to grow, the question for Singapore should be: How do we prepare for such a league?
Singapore is arguably the most experienced country in the region when it comes to cross-national leagues.
The S.League today hosts teams from Japan, Brunei and Malaysia (and until a few months ago, also one from France), while the LionsXII were runners-up in the Malaysian Super League in 2012.
Local authorities must ensure that Singapore has an important role in this predestined Asean League, and in order to achieve such a goal, it is vital to continue building enthusiasm for the sport on a local scale.
Presently there are nine clubs in Singapore, all playing in the S.League, plus the de facto youth national team (Young Lions), and the LionsXII, as said, participating in the MSL. With all due respect, it is quite utopian for a city of five million people to maintain eleven competitive professional teams - a fact sadly confirmed by the low number of tickets sold for S.League games.
The ideal number of teams for Singapore is two, as in historical football cities such as Milan, Rome, Munchen, Liverpool, Glasgow, Barcelona, and, most recently, Shanghai and Osaka. Cross-town rivalry, ideally between competitive teams, has been the key to success for some of the greatest football clubs - look at what is happening in Manchester!
Ideally, the two Singapore teams would comprise of a mix of LionsXII, Young Lions, the best S.Leaguers and some valuable foreign players. These foreign players should be picked carefully, taking into consideration those that can help the development of professional football in Singapore, as well as increasing attendance at matches.
The LionsXII currently participate in the MSL with many limitations, but once their talent pool is divided into two clubs, Singapore clubs should be treated the same as all Malaysian teams, with no special rules impairing them.
So, if to begin with, two Singaporean teams were allowed to participate in the MSL, we would have a big game in town for each round as well as a mighty Lion City Derby twice a year.
The rivalry could be developed off the pitch as well, with both clubs competing to capture the most supporters by organising social events, participating in TV shows, etc.
However, we all appreciate the fact that Singapore is all about unity, thus the two teams should by no means be divided by any racial, religious or political factors. They should be two fair competitors that mirror one another and motivate each other to keep improving.
The day the Asean League becomes a reality, Singapore would then be well placed to compete with the other regional powerhouses, something we need to be concerned with as football in Malaysia, Indonesia, Thailand and recently in the Philippines keeps growing and attracting investors.
So, what about the S.League? It should surely be kept alive as a local semi-professional league that could help foster talent, especially in young local players.
But we need to be realistic: At the moment, while stadiums are often sold-out in the rest of the region, the only local team that has won the hearts of Singapore supporters is the LionsXII. They are a well-packaged product, and more than that they are a very good team; well coached and playing entertaining football.
Entertainment from popular players is, in the end, what people want and it worked fairly well with the Lions XII. I believe that Singapore has enough resources to sustain two teams of that level. It would ready us for this inevitable Asean League, and in the meantime, if such teams be allowed to participate in the MSL, it would be a lot of fun.
Follow Cesare Polenghi on Twitter!