Andrea Pirlo is regarded by many as the world's best free-kick taker and one of the greatest of all time. Below he reveals the secret behind his success. I THINK THEREFORE I PLAY by Andrea Pirlo is out now in paperback and ebook.

BOOK EXTRACT
By Andrea Pirlo

I'm Italian, but I'm also part-Brazilian.
Pirlinho
, if you like. When I take my free-kicks, I think in Portuguese and at most I'll do the celebrating in my native tongue.
I strike those dead balls
alla Pirlo
. Each shot bears my name and they're all my children. They look like one another without being twins, even if they do boast the same South American roots. More precisely, they share a source of inspiration: Antonio Augusto Ribeiro Reis Junior, a midfielder who's gone down in history as Juninho Pernambucano.
During his time at Lyon, that man made the ball do some quite extraordinary things. He'd lay it on the ground, twist his body into a few strange shapes, take his run-up and score. He never got it wrong. Never. I checked out his stats and realised it couldn't just be chance. He was like an orchestra conductor who'd been assembled upside down, with the baton held by his feet instead of his hands. He'd give you the thumbs up by raising his big toe – somebody at Ikea was having a good laugh the day they put him together.
I studied him intently, collecting DVDs, even old photographs of games he'd played. And eventually I understood. It wasn't an immediate discovery; it took patience and perseverance. From the start, I could tell he struck the ball in an unusual way. I could see the "what" but not the "how". And so I went out onto the training pitch and tried to copy him, initially without much success. In the early days, the ball sailed a couple of metres over the crossbar, or three metres above the sky to borrow from the Italian film of the same name.
Much of the time it went right over the fence at Milanello and I'd end up lying to the fans gathered outside, pretending I'd done it deliberately. "Boys, I want to give you a present," I'd say, glossing over the fact that the session was behind closed doors and they shouldn't have been anywhere near it. As I was speaking to outlaws, I told myself that what I said was neither a sin nor a crime.
The misses went on for several days and by that time the bloke in charge of the kit store was getting somewhat peeved. For him, it was a case of too many lost balls becoming a ball ache as I persisted with my experiments. Days soon turned into weeks.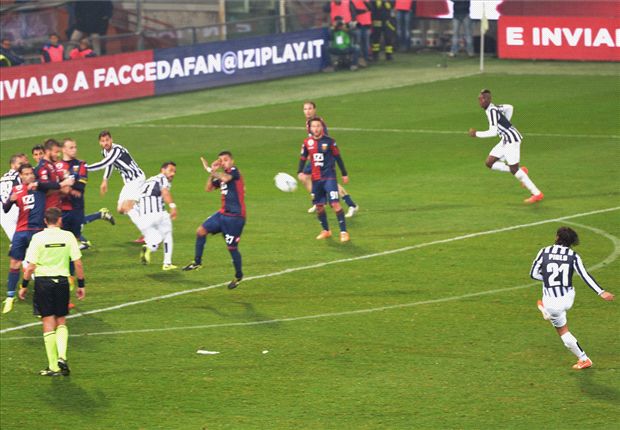 'The Architect' | Pirlo has scored an incredible 43 free kick goals in his career


My own Eureka moment arrived when I was sat on the toilet. Hardly romantic, but there you go. The search for Juninho's secret had become an obsession for me, to the extent that it occupied my every waking thought. It was at the point of maximum exertion that the dam burst, in every sense of the term. The magic formula was all about how the ball was struck, not where: only three of Juninho's toes came into contact with the leather, not his whole foot as you might expect.
The next day I left the house really early, even electing to skip my usual classic PlayStation battle with [Alessandro] Nesta as I rushed to the training paddock. All I had on my feet was a pair of loafers – I didn't need proper boots to demonstrate what I was now convinced was the right theory.
The kit-store guy had already turned up for duty.
"Can you pass me a ball, please?" I asked.
"Get to f***," he said under his breath, almost hissing at me.
"What was that?" I replied.
"I said I saw a duck."
"Right you are. Go on, you fool, throw me over a ball."
Reluctantly, he chucked one across. Mentally, he was already preparing himself for a trip to the woods to recover it. Instead I stuck it right in the top corner, just where the post meets the crossbar.
A geometric gem. I placed the shot so perfectly that it would have gone in even with a keeper. Luckily for our goalies, none of them were around.
"Why don't you try doing that again, Andrea," came a provocative voice from behind. This was now a battle of two against one. Me on one side, the kit store guy and the ghost of Juninho Pernambucano firmly on the other.
"Okay then, spoilsport. Just you watch," I said.
| | |
| --- | --- |
| | The ball needs to be struck from underneath using your first three toes. Keep your foot straight and then relax it in one fell swoop" |
Up I stepped and unleashed a carbon copy of the previous free kick. It was a thing of absolute beauty, stylistically impeccable. I lined up another five strikes and it was the same story every time. By now it was official: I'd cracked it. The secret was no more.
In essence, the ball needs to be struck from underneath using your first three toes. You have to keep your foot as straight as possible and then relax it in one fell swoop. That way, the ball doesn't spin in the air, but does drop rapidly towards the goal. That's when it starts to rotate. And that, in a nutshell, is my
maledetta
.
When it comes off exactly as I want, there's no way of keeping it out. It's specifically designed to head over the wall before taking a direction that nobody can predict. For me, the best feeling in life is watching the ball fly into the net after it whizzes a couple of centimetres over the heads of the defenders. They can almost reach it, but not quite. They can read the maker's name, but they can't stop it going in. Sometimes a pinch of sadism is the ingredient that makes victory taste that little bit sweeter.
The further away from goal I am, the better. As the distance increases, so does the effect I can impart. The greater the space between me and the keeper, the quicker the ball tends to drop as it hones in on its target.
I can obviously mix things up a bit, throw in a few little tricks to make every free kick unique, but the underlying concept never changes. Scoring from a dead-ball brings me massive satisfaction. It sets me up as an example for other players to follow, copy and perhaps even emulate over the course of time. For them, I'm a Juninho Pernambucano 2.0, a Brazilian with a Brescia accent.
I've never told anyone, but my ambition is to become the leading all-time scorer of free kicks in Serie A.

'I think therefore I play', by Andrea Pirlo, is available to buy now in English in paperback and ebook.
For more information, visit www.backpagepress.co.uk