There was much fanfare last February when
Singapore
starlet
Adam Swandi
jetted off to France to sign for FC Metz
, but his future at the club is currently in the balance.
Having arrived back home a week ago, the 18-year-old will have to decide on the next step in his football career soon, with his contract at Metz having ended at the end of last month.
Speaking to
Goal Singapore
on the sidelines of the Singapore Olympic Foundation (SOF)-Peter Lim Scholarship award ceremony on Saturday, where he was a third-time recipient, Adam stated that Metz will likely offer him a year-long contract to continue playing in their Under-19 side. His next best option would be to return to Singapore to play, but Adam admits he would very much prefer to ply his trade overseas.
"Personally, if I had the choice and there is no hindrance, I would definitely want to stay in Europe, be it at FC Metz or other clubs, because that's where the main football scene is," he explained.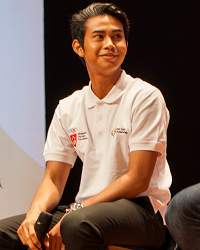 "Once you're in there, once you get your first pro contract, you'll be there for most of your footballing career - and that's where every footballer wants to be."
The reason for his desire to further his development abroad is simple: the standard is much higher, with Adam citing a particular moment that stood out when he played against FC Sochaux.
"Definitely, it has made me a better player due to the exposure I've been given over there," he asserted. "I even once played with [Ghana star] Jordan Ayew, because I was with the reserve team; it was crazy because I just played against someone in the current World Cup."
To that end, Adam is grateful for the benefits afforded by the scholarship, which has helped keep his European dream alive.
"It has really helped by bringing up my name as an upcoming athlete and footballer," the Under-18 High Performance recipient pointed out. "Financial-wise, my father is the sole breadwinner and he doesn't earn much. It's costly to live over there, so it really helps me as my parents don't have to work that extra bit."
However, the gifted attacker is aware that he has to be playing regularly in order to maintain his form and be selected for the national team. That is something Adam has not been getting much of, with Lions coach Bernd Stange stating in recent media reports that the starlet's lack of minutes is a concern.
"To be able to play well in football or any other sport, you need the competition and to play competitive matches in order for you to set the tempo for yourself," he acknowledged.
"My next option is to come back to Singapore. If I go to the
Courts Young Lions
, it'll be the squad that is going to be playing in the next SEA Games, so it'll be good for me as I can get time to gel with the team."
Apart from playing time, the prospect of playing in the SEA Games is another factor that will influence his next step. Adam revealed that according to his director at Metz, there is a "high possibility" that the club will not release him to play in the competition, slated for June next year, if he accepts their contract offer.
National Service (NS) is another obstacle that could stand in Adam's way of making the SEA Games. He is keen to get it over and done with, although there is the possibility of deferment.
"If they can help me defer another year, until right after the SEA Games [so I can participate in it], that will be okay too," he said.
Adam is still in the process of figuring out what to do next, with Metz due to commence pre-season preparations in early August. For now, he is focusing on doing well on the Under 23s' upcoming training trip to Austria, together with the first team.
"Right now I'm off season, so this Austria trip will somehow be like a pre-season for me, which is really good for me because I know I have to start picking up," he said.