The roaring sound of engines could be heard all around the compound from time to time, as buses and the like parked at the nearby carpark.
But at the Offside Futsal Park, located just beside the carpark, eight of 37 teams were jostling for the ball on the court at one time, as players' faces were tinted with concentration while sweat dripped from their forehead down to their chins.
They were all competing for something prestigious at stake: the right to participate in the Tiger Street Football 2013 grand finals, which will be held in Ho Chi Minh City, Vietnam, at the end of the year.
Teams who emerge among the top 28 qualified for the nationals round, and will then compete to determine who will fly the Singapore flag in Vietnam come year's end.
"The reason we joined is because this it's a big competition and one of the biggest challenges around," said Kanga-Daran David, who plays for Dorset BoyZ (A). "We meet strong teams and it's a good atmosphere to play in."
As the event reached its culminating point, each team became aware of its fate and the teams who made it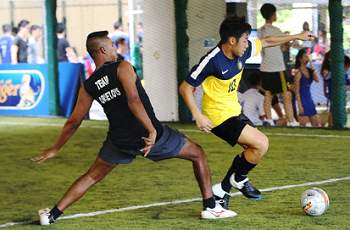 to the nationals rejoiced at being one step closer to representing the Lion City in Vietnam.
Kanga-Daran's team confirmed their progress to the nationals and he admitted his joy at qualifying for the next round, but insisted his team had to work hard in to order to triumph at the nationals.
"The job is only half-done, but we have already won half the battle, and it is up to how hardworking we are now to win [the nationals]," the 21-year-old said.
While there were teams who did not qualify for the nationals, the players from these teams too gave the tournament a thumbs up.
"Overall, it was still a good experience, at the end of the day, I gave it my best and my all, so there's nothing much to regret about, said Bastian Lim.
Teams who qualified for the nationals:
La Plata Jrs B, (VPR) Vista Park Rangers, U Sports Team A, M.I.B, Mexican Aces, U Sports Team B, Teban Thunder FC, On the Dot, Happy Family FC, BHPBillton FC, La Platas Jrs A, Azteca Flair, MOF Happy Feet, Dorset BoyZ (A), Vera Mari Bros, Premier Pitch – Happy Feet, Setan Merah, Universal Raiders, Dorset Boys (B), Project Vaults FC (PVFC), NTL United, MOF – Le Mode, MNA, Team Brain Dead, LPJ, Tekong Boyz, Young Team, Parttimers.