The Singapore Cerebral Palsy football team will compete in an international seven-a-side tournament in Vienna, Austria from August 28 to September 1.
Known as the Football Development Tournament, the Singapore boys led by coach Mohamed Zainudeen (right) will face off against Germany, Netherlands and the host nation.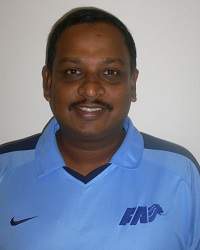 Zainudeen, who spoke to
Goal Singapore
before the team's departure yesterday night, says it will be all about the experience for his charges against much stronger sides.
"There are definitely no expectations from me as we are playing against these powerhouses," he said.
"If you Google them, they are established teams and they have leagues and hundreds of players to choose from. It's all about the exposure for the boys."
That is in stark contrast to the Singapore team, who will bring along only 11 players despite the rules allowing 12 to be registered due to the limited player pool here, which "Zai" highlighted.
He also mentioned the lack of suitable opponents in the region, which was partly the reason for their trip.
"If we stay here, we won't get many games to play," Zai explained.
"I was looking through my contacts and I came across this tournament. It will be our first time playing against European teams."
To prepare for the tournament, the team added a Sunday session to their usual weekly trainings on Saturdays.
With the help of his former schoolmates, a mini-football tournament was organised in June as part of fundraising efforts to defray the expenses of this trip, and Zai believes his four year-old team can do with more support going forward.
"We are under the Singapore Disability Sports Council, but football is not a core sport," he said.
"Definitely the [public's] awareness has increased as publicity increases, but if we want to establish cerebral palsy football here then we have to do more."
The Singapore team will play one game daily starting with Germany on Wednesday, followed by Austria and then the Netherlands, before a final round on Saturday. They are scheduled to arrive back home on September 2.
The tournament is organised by the Austrian Disability Sports Federation (OBSV) in cooperation with the Cerebral Palsy International Sports and Recreation Association (CPISRA) and aims to provide the "perfect opportunity for developing nations" to play against teams of similar level.
We wish the team all the best in their participation.
Photos courtesy of the Singapore Cerebral Palsy Football Team Facebook page.