Once again, the Courts Young Lions have found winning beyond them, but there was no mistaking their new-found confidence as they matched league leaders Tampines Rovers for much of a game they eventually lost 4-2 at Jalan Besar Stadium on Tuesday night.
Tampines had a number of players missing including first-choice goalkeeper Andre Martins, who has a fractured arm, defender Jufri Taha who was injured in training and the suspended Seiji Kaneko.
Shaiful Esah was also out after sustaining a meniscus injury, but the Young Lions were short-handed too with four players missing due to either National Service issues or injuries.
Most significantly key defender Afiq Yunos was unavailable, M. Anumanthan was suspended and both Stanely Ng and Sheik Abdul Hadi were injured.
Coach Aide Iskandar had other thoughts on the player absences he had to deal with.
"I've done some research and it seems we never get results on weekdays due, I think, to National Service issues a lot of the time and I do hope we can get more Friday, Saturday or Sunday games in future as that's when we have gathered our only points so far, when we have more players to call upon," he explained.
"It's not easy playing Tampines but the boys did well, though I was not too happy with the goals we conceded.
"I couldn't dispute the first penalty, but I thought the second was perhaps a little soft.
"The passing today was good, but the fasting month and lack of training has affected the boys and I can't ask them for any more than they've been giving me, really."
As for Tampines coach Tay Peng Kee (right), who was sent off late in the game for remonstrating with the match officials over an incident that many missed - a blow aimed at one of his players near the Young Lions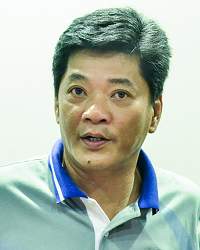 bench - he was unconcerned about being penalised.
"I was angry," he said. "As angry as I've been at any other time in my life!"
That aside, the Stags coach was pleased that his depleted team came through with the points.
"It's always a concern when we play teams at the bottom, as complacency can creep in," Tay admitted.
"But after Young Lions scored, I was not worried as I knew I had the players to do the job and get us back into the game.
"We got caught (for the first goal) as we had been aggressive and were pressing maybe too hard early on, so we changed things after that and the team responded well. We're trying to settle the title issue as soon as we can.
"Hopefully we can demoralise the rest of the teams with this lead we have!"
When asked how his new players were doing, he had words of comfort for Portuguese striker Diogo Caramelo, who came on late in the game and missed a few chances.
"He's getting into positions alright, but I think maybe he is trying too hard and that's why he is doing some things wrong at the moment," he explained. "The other boy Vitor [Ladeiras] is doing fine."
The match included two penalties, both put away by Mustafic Fahrudin.
"I've not missed any for two years now, but I did miss some before that," the captain said as he left the stadium.
"The goalkeeper saw that I wanted to play the ball right down the middle for the second penalty and I had to change my mind and go to his right instead.
"Luckily I got enough power behind the ball to beat him a second time!"
Tampines, at least, know what their skipper can do.
He dropped back into the heart of defence again for this match, with Kaneko and Jufri unavailable, but the tough-tackling Mustafic still had time to venture forward now and again and was, as expected, the driving force behind his team's clear-cut victory.