Tanjong Pagar United coach Patrick Valle saw his side live dangerously in the second half of their match against Woodlands Wellington, conceding twice after taking an impressive 3-0 lead in the first half.
But despite the scare posed by the Rams after the break, the Frenchman was still delighted with his charges' performance on Sunday night after a grueling schedule in the past week.
"I am very proud of my team as we had a very difficult week and also several injuries, especially after the Singapore Cup," Vallee noted.
"They did not give up the third place and I know it is not easy, but they did it.
"I am happy for Ahmad Latiff as he was not supposed to play tonight because of an injury but he wanted to play for the club, and this is what the club is all about this year (determination and fighting spirit)."
While the Jaguars ended the previous season at the wrong end of the table, Vallee believes his side have silenced their doubters with the kind of football they have played and the results they have achieved this year.
"I do not know what position we can achieve [in the end] but what they have done so far is very beautiful and nobody can criticise us," he stated.
"After eight months, the players need rest and to come back fresh to finish the season. We must win again to achieve our objective of [finishing in the] top six, but the top three is better."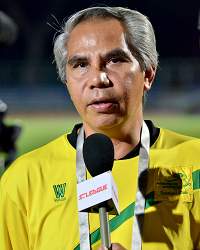 Despite the defeat, Woodlands coach Salim Moin (right) was not too worried with his team's display as he felt they were not able to undergo proper pre-match preparations during the fasting month.
"This is a problem that is quite difficult to answer and most of the teams will never be able to get into the game's atmosphere in the first 10 to 20 minutes," he pointed out.
"This is because of the limitations (duration) in the warming up (during the fasting month). But I do not blame the organiser or my team and I hope my team will be able to learn from this."
The ex-Singapore international was pleased with his players' determination and believes that they would have snatched a point if football was not a game limited to 90 minutes.
"We did have chances in the first half too, but we were not able to convert it into goals; if not, we would have been leading in the first few minutes too," Salim pointed out.
"I still believe in my team and they have played well and even though we were down in a couple of matches they came back fighting and never said die. In the second half, my players showed the desire to come back and produced good football in the last 10 minutes.
"They managed to get the goals and if the game [had] carried on for another 10 to 15 minutes, we could come back to draw the game."