AirAsia will sponsor Singapore football to the tune of $1.8 million over the next three years in a shot to the arm for the game here.
The Malaysian low-cost airline, voted the world's best, will plough in that sum until May 2016 and Group CEO Tan Sri Tony Fernandes (right)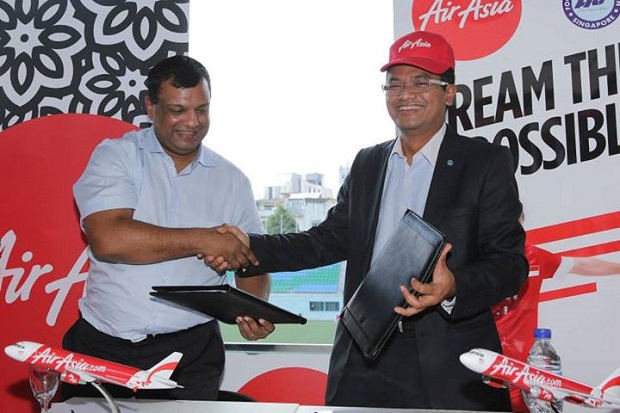 signed the agreement with Football Association of Singapore president Zainudin Nordin on Wednesday afternoon at the Jalan Besar Stadium.
Under the agreement, all Singapore age-group teams, including the women's national team, will travel via AirAsia when they embark on training tours or go overseas for competitive matches.
A pitch adorned with AirAsia billboards and a giant company logo on the centre circle provided the backdrop as Fernandes fielded questions with candour.
"I have the same feeling when I walked in and saw captain Shahril [Ishak] as I did when I sponsored Manchester United many years ago," he said in reference to the Singapore midfielder donning a training kit emblazoned with the AirAsia logo on the front.
The Malaysian explained why he had no qualms about doing his "very best" to help football grow in his country's traditional rivals and peppered his responses with humour and interesting anecdotes.
"The reason I got involved was [because of] the passion shown by the FAS," Fernandes revealed.
"I looked at the fact that we could help a group of guys who were very passionate about local football. It also shows that we are not just Malaysia, Singapore, Indonesia; we really see ourselves as Asean and I am a big believer in Asean.
"This is probably our biggest and most in-depth deal. What better way for us to show our Asean credentials by sponsoring the Singapore national team? I don't know much about the S.League, but sure [we will look at it too].
"Without doubt, we are latching on to a great bunch of dreamers here and we hope to be part of that success going forward. Aim high, have a vision and do something great for Singapore football and for me that's the most important thing."
The owner of Championship side Queens Park Rangers added that local coaches could learn from manager Harry Redknapp through attachment stints, and reiterated his desire to back Singapore football.
"Football is very passionate; I am a West Ham supporter and I ended up buying QPR!" he pointed out.

"Of course there will be some people who say I am from Malaysia [but] I think FAS came up with a great proposal and I like what they are doing with the youth. There are going to be negatives and skeptics, but who cares?

"We are going to make dreams come true, we are going to do things that are different. This is different. I'm sure 99 per cent of you would have never imagined AirAsia to be sponsors, or the FAS to have gone to AirAsia.

"I'm sure there are things we can learn from the FAS... and we could do many collaborations.

"For me, I've got my name on a Singapore jersey; it's worth signing a deal just for that!"
(All pictures courtesy of FAS)