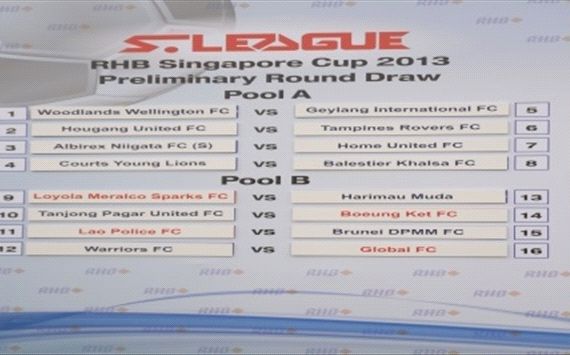 The draw for the 2013 RHB Singapore Cup was held in conjunction with the RHB Charity Football 2013 tournament on Sunday, April 14 at the iconic The Float @ Marina Bay.
This year's tournament will see many interesting changes, including a change in format and participation from four foreign clubs, namely Global FC and Layola Meralco Sparks (both Philippines), Boeung Ket FC (Cambodia) and Lao Police FC (Laos).
There will also be an increase in prize money for the champions, first runners-up and second runners-up of RHB Singapore Cup 2013, who will each receive $100,000, $60,000 and $40,000 respectively, up from $80,000, $40,000 and $20,000.
Unlike previous editions, where teams were drawn with a clear route to the final, clubs will now be drawn on a round-by-round basis. The clubs competing in each round of the competition shall be drawn in pairs, with the tie to be played on a knockout format. This shall be continued until the finals of the competition.
The main event for the day was the draw, as clubs and fans alike waited eagerly to find out their opponents in the first round of the competition. Charity was part of the event too, with players from various clubs, stakeholders of the S.League and members of the public all involved.
Speaking at the event, RHB Bank Singapore country head Jason Wong spoke of the many community outreach activities the bank has embarked on over the past eight years, together with the S.League, to make football "more accessible to youths and the underprivileged".
"We are delighted to be doing something refreshing and yet do our part to give back to the community for this year's draw event," he stated.
"We thank all fans as well as other members of the public who supported this worthy cause and witness the RHB Singapore Cup Draw by joining us at the Float @ Marina Bay this Sunday."
Before the draw was conducted, members of the public and players from the S.League clubs were also given a chance to do their part for charity by donating a minimum of $10 and at the same time, kick a ball on to the water in order to stand a chance of winning a brand new Hyundai Elantra 1.6 Dual CVVT in the "Kick A Ball, Win A Car" challenge.
All proceeds collected for the events will be donated to TOUCH Community Services.
"We are pleased to hold this year's RHB Singapore Cup Draw in conjunction with a charity event for a good beneficiary: TOUCH Community Services," S.League CEO Lim Chin said.
"We [would] like to thank all fans who turned up at the Float @ Marina Bay this Sunday to take part in the "Kick A Ball, Win A Car" challenge. where they are not only attempting to win a nice Hyundai car but also to contribute to the good work of TOUCH Community Services.
"It is always great to see the fans coming down and supporting their respective S.League clubs."
The RHB Singapore Cup Charity Football, a five-a-side tournament with a total of 16 teams, featured dedicated and caring people from all walks of life, including those with special needs, corporate staff as well as our Members of Parliament. Each team donated a minimum of $2000 to register, with RHB also contributing $25,000 to TOUCH Community Services in addition.
"On behalf of our beneficiaries, we are delighted to receive both the financial support of RHB Bank and the organisational expertise of S.League for our charity five-a-side football tournament," Edmund Wong, general manager of TOUCH Community Services, said.
"We hope that through this event, the players will forge new friendships with each other and everyone had an enjoyable time playing football together."