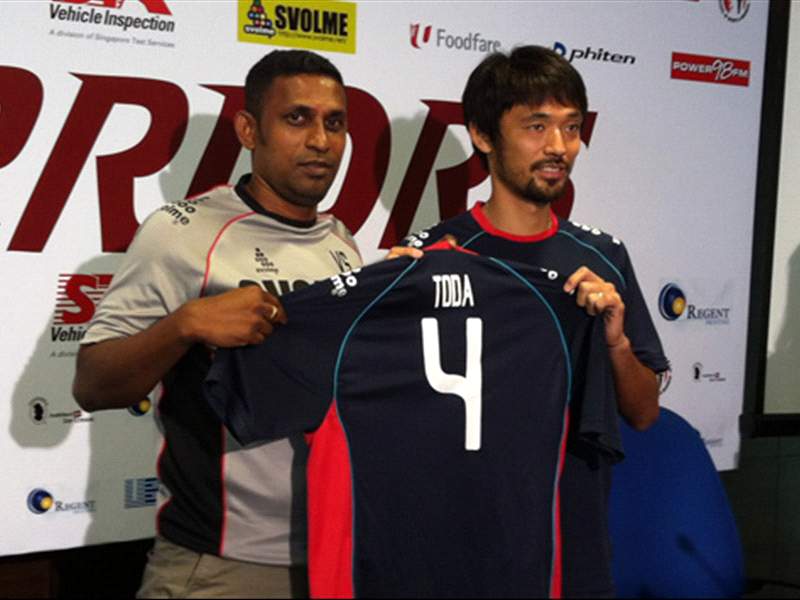 Kazuyuki Toda has traveled across the globe for more than 15 years, playing football in Japan, England, Holland and Korea. His flamboyant career has now brought him to Singapore S-League side SAFFC, after a sweet and sour season at his hometown club Machida Zelvia saw the defensive midfielder get very little action.

"It was quite disappointing," confessed Toda. "In the beginning I was very happy I had a chance to play for my town's team. But while the club management told me I was brought in as an important player and a symbol for the club, the manager [Osvaldo Ardiles] soon made it clear I was not needed.

"It was really frustrating, because it is my hometown and I love Machida. I really did my best till the last day at the club."

In order to brighten the mood a bit, we changed gears to discuss the success of Toda's former club Sanfrecce Hiroshima, who clinched their first-ever J-League title last season.

"Sanfrecce took their time to build a very good team, and they deservedly won the title," said the 35-year-old. "Some of the players were eighteen or twenty years old when I was at the club. I am very happy for them."

As his new adventure in Singapore begins, the former Samurai Blue member is in high spirits.

"My goal is to help SAFFC," Toda asserted. "In all honesty, I don't want to think myself as a 'marquee' or 'star' player. It's a lot of unneeded pressure, and that's not my style. I simply want to work hard and do well. I want to be part of a good team, and I'm just one of the players."

"I have a couple of Japanese teammates at SAFFC in Shinpei Sakurada and Tatsuro Inui," he continued. "And I already have an image of how we can play together.

"Of course that helps a lot. Yesterday at practice it was already quite good. The atmosphere within the team is very positive, everybody is very nice."

Toda laughed when I told him that his very aggressive play style might not go down well in rule-abiding Singapore, before recounting his first few days in the Lion City.

"I am already getting used to Singapore," the Sydney Olympian gushed. "I ride the MRT around, I love the food, and anyway there are my Japanese team-mates.

"I am used to living abroad, so I am really looking forward to my experience here in Singapore."

The former Spurs man also spoke of his determination to improve his English skills: "I think I can have a simple conversation in English," Toda said in Japanese. "But things such as reading a newspaper are still difficult, as I must learn more words. My vocabulary is still a bit poor, but when it comes to football and communication with teammates or with the coach, there are no problems.

"I was in England and in Holland, and I am beginning to remember the language already. However I want to improve."

Before saying goodbye and wishing him luck in this season, I asked about his famous hairstyle, the red Mohican that turned heads worldwide at the 2002 World Cup.

"I've thought that since I'm in Singapore, it might be worth it to re-do the red crest," Toda admitted. "I talked about it with my Japanese team-mates yesterday but I have not decided yet; I am not that young anymore!" And with that, the globetrotting footballer put a humorous stamp on the latest chapter in his adventurous career.