The date - September 5, 1998.
The occasion - the Tiger Cup final against Vietnam.
The moment - A cross coming in from the flank on the 65th minute, a spontaneous touch from the shoulder of a towering young Singaporean defender saw the ball looping over the opposition keeper and into the back of the net.
The implication - A first-ever international title for the Lions and instant fame for the goalscoring hero.
That ecstatic feeling was unbelievable with teammates mobbing the man-of-the-moment from behind.
The goal was affectionately dubbed the 'Shoulder of God' goal and the then-23-year-old R.Sasikumar achieved the ultimate boyhood dream of every professional footballer - to score a winning goal in a silverware-deciding game for his beloved country.
"Obviously that goal brought a lot of attention on me," recalled Sasi when he spoke to Goal.com Singapore.
"I've never imagined that growing up as a kid in Yishun, kicking a ball on the void deck, going to the National Stadium to watch Malaysia Cup games, I was able to achieve this.
"That goal summed up the combination of hard work and sacrifices that I made over the years - I was never ever a skillful player like Fandi [Ahmad] or Rafi [Ali] but I made it up by working on my fitness.
"It was indeed a proud moment for me and my parents. Even when I go to Vietnam nowadays for business purposes, the people there still recognize me. That explains the impact of that goal."
However, Singapore were unable to sustain success in the following edition of the Tiger Cup in 2000 where they bowed straight out from the group stages.
It was to be the last major tournament for Sasi as he duly retired from international football after a six-year long spell with the Lions.
Fast forward to 2012, and the 37-year-old is building a successful career for himself in sports marketing with Red Card Pte Ltd where he is the Managing Director.
For Sasi, the memory of that Tiger Cup win is not highlighted by his winning goal alone. It was also about the well-balanced squad coupled with the unbreakable team spirit.
"Going into the tournament in Vietnam in 1998, we were not quite sure how we will fare because a number of seniors didn't make the trip," he explained, mentioning Lim Tong Hai who missed out through injuries.
"At that point of time, the team was also not getting results. In any case, that gave the opportunity for young boys like me, [Ahmad] Latiff, [Lim] Soon Seng, Gusta [Guzarishah] to go there and try to stake a claim in the team.
"That was the actual plan for (former Singapore coach) Barry [Whitbread] who worked with many of us along with Rezal [Hassan] and Zul [Zulkarnaen Zainal] in the Pre-Olympic team for four years prior to this.
"The plan was a nice mix of youth and experience with seasoned campaigners in Nazri [Nasir], Kadir [Yahaya], Rudy [Khairon], Wira [Samawira Basri] in the team."
A great result achieved in the first game, a 2-0 win over Malaysia with goals from Rafi and Latiff set the tone for a very successful group stage, where they unexpectedly finished top of the group ahead of hosts Vietnam.
"The opening game against Malaysia was really good," he recalled
"The desire was there and the young boys made the older boys eager to fight on the pitch, that sort of made us stand up and believe that 'Hey, maybe we call go all the way'."
Final standings obviously had an impact on the other group where Thailand and Indonesia were also assured of places in the semi-finals.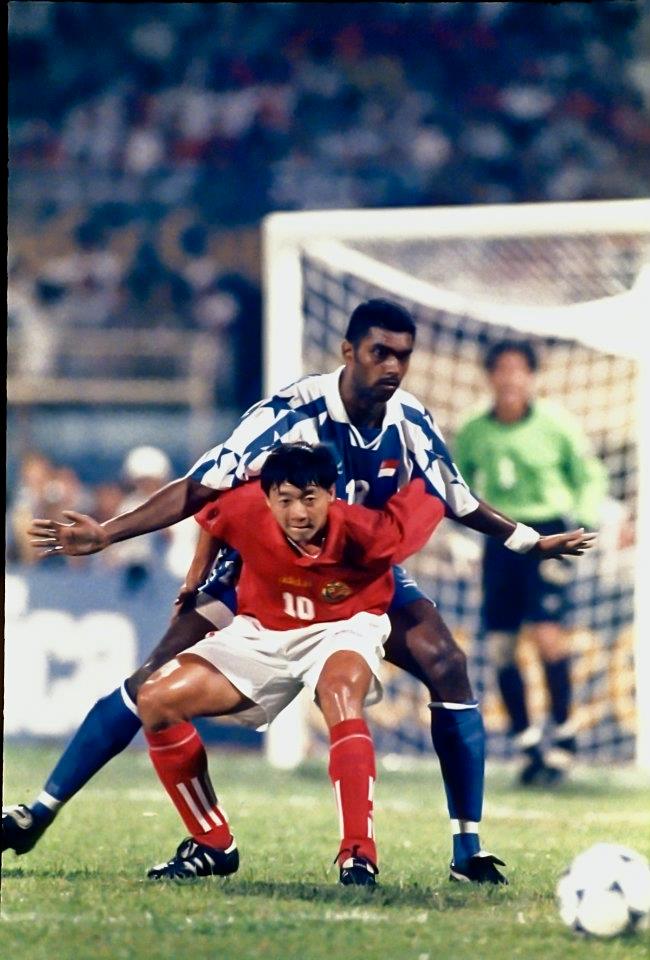 Sasi keeping a close watch on Le Huynh Duc
Both sides faced-off in their final group clash in what is now an infamous incident in ASEAN football history.
With both sides eager to finish second in order to avoid the 'stronger' Vietnamese and play the 'weaker' Singapore side instead, as well as avoid relocating for the semi-final fixture, both sides played out a torrid 90 minutes with neither side showing willingness to attack.
With the score tied at 2-2 entering added time, Indonesian defender Mursyid Effendi deliberately put through his own net despite the Thais' efforts to stop him, scoring the losing goal that enabled them to face Singapore in the final-four.
Sasi and the rest of the Singapore contingent were in the stadium that day witnessing the farce, which eventually resulted in a fine for both teams as well as a lifetime ban from international football for Mursyid.
"I still remember clearly, going into this game, there was no need for a team talk as pride was at stake," he said.
"We were all pumped up and wanted to teach Indonesia a lesson. Barry told us 'If you guys got pride, got out there and show them'."
First-half goals from Rafi and Nazri saw Singapore race to a 2-0 lead within the first-half hour. Despite conceding just four minutes after Nazri's goal, they were able to stave off the pressure from the Indonesians and reach the final.
But there still remained that final step - a 90-minute task in shutting out the team that the whole region feared, in front of a 25,000-strong home crowd hungry for success.
"They're the host nation and they arguably had the strongest team," Sasi recalled.
"[They had] some great individuals in Le Huynh Duc and Nguyen Hong Son. They also had a whole nation behind them with this being a great opportunity to win a tournament at home, and they also had a good coach in Alfred Riedl who knew a lot about our style of play."
The match was as expected, not easy with the two dangermen causing all sorts of problems for the Singapore backline including nearly starting a fight between two team-mates.
"The game was very even like a boxing game, a punch here and a kick there, an entertaining and high level game," said Sasi in amusement.
"I was given the task of marking Le while Subramani was supposed to mark Nguyen. We had to do a man-to-man job on them in order for our forwards to show their stuff.
"Not many might know this, [but] the desire to win was so high that me and Kadir almost came to blows during the match!
"Le was a slippery opponent and I gave away a free-kick in a dangerous area to him in the first-half.
"Kadir shouted at me for that and I reacted in the heat of that moment, our team-mates even had to separate us!
"Luckily we defended that and ironically it was Kadir who provided the cross for me to score the winning goal. We immediately hugged each other at that point of time and everything was quickly forgotten.
"That was the mindset of winners."
With Latiff sent off 10 minutes before the end, the Lions hung on with Rezal also pulling off a few crucial saves to allow them to achieve their dream.
Sasi's goal marked the perfect farewell for coach Barry who left after that successful tournament.
"Ultimately Barry already announced he won't be staying before the tournament," explained Sasi.
"I have been promising him throughout that I'll score but I didn't, before the final he came to me again and told me 'This is a good time to score' and I did it."
Looking back, Sasi paid tribute to the 18 locally-born men who made history by winning a first major tournament for Singapore despite various difficulties, adding: "That year was special indeed. Let's not take anything away from the 2004 and 2007 winning squads, you got to be at your best to win championships, but we had a great mixture of races in this group. The good representation across the four ethnic races brought different qualities to the team."
"The fixtures were not kind to us either. We had to fly from Hanoi to Ho Chi Minh for the semis and vice-versa for the final and they put us up at ridiculous hotels but we didn't let anything distract us.
"The credit not only goes to the first 11 but also the reserves - every 18 of us had the belief to do it.
"We're the first handful of Singaporeans to win an international tournament and it was a real proud moment for all of us."
Part 2 of the interview will be published on Sunday.