By Bhas Kunju
Chief Editor, Goal.com Singapore
bhas.kunju@goal.com
@BhasKunju
Leaving Liberia due to outbreak of war and then making his way to his father's homeland of Ghana, Nathaniel Naplah eventually made his passage to Singapore in the 1990s after a brief stopover in Malaysia.
The one-time Liberia international who played alongside former FIFA World Player of the Year George Weah, was a familiar sight in the early days of the S.League turning out for Balestier Central and Tampines Rovers.
Now a youth coach at International Soccer Academy (ISA), the 37-year-old is still active in Singapore football and spends his time developing future talents at the local football academy.
Sitting down for a chat with
Goal.com Singapore
after a training session with his young charges, Naplah spoke on the problems curtailing youth development, touching on the enrolment process for the Singapore Sports School and the overemphasis on academics.
"For the Sports School we bring in players who are 50% academically good, but for soccer maybe they are 50% only," he said.
"What about the ones who are 100% good in soccer but not so good academically?
"Between these two, the one who is better at soccer and not so good academically, he'll stay with football as a career and one day end up in the national team. But the rest they'll pursue a career outside of football."
The Singapore resident of nearly two decades had also recently taken the ISA youth teams to Sweden for the Gothia Cup, the largest football event in the world, with the academy registering promising results against more established sides.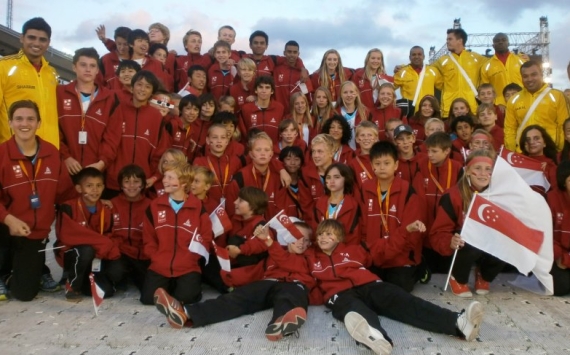 When asked about the recent alleged comments by Singapore national coach Radojko 'Raddy' Avramovic, on the standard of youth talent in the S.League, Naplah conceded there might be a grain of truth to the statement.
"I'm not sure what he was thinking when he said that because here [in Singapore] you have to be careful about everything you say!" he joked.
"First of all, are the best youth players even playing in the S.league? Maybe Raddy is right.
"Have we given the most talented players the opportunity to play in the S.League? In Singapore, there are many talented players but have they all ended up in the S.league?
"Most pursue other careers, but maybe others didn't meet certain criteria. So we lose a lot of talented players as well."
Naplah pointed out that apart from a few exceptions, the depth of talent in the S.League is low and wondered if Raddy may have already done all he could for the national team.
"Courts Young Lions have some good players," said the former Stag.
"But maybe the rest of the clubs have one good player each.
"But, are the older players in the national team exceptional too?"
"When he (Raddy) came in, he did a lot of things for Singapore football. He has brought them to a certain level but now it's going back down.
"He has to ask himself if it's time he needs to go or wait till he is asked to leave."
With Singapore losing recently to Philippines and having played only Hong Kong and Malaysia in friendlies this year, Naplah also felt that it was time the national team stepped up and took on bigger opponents for preparation.
"Why always play Malaysia?" he said out loud with a hearty laugh.
"Why always Myanmar, or Philippines? What are their Fifa rankings?
"Bring in Japan, let them beat you 5-0 or 6-0, and then one day you can draw with them 1-1 or win 1-0.
"Let the people watch teams like Iran. Iran is a football powerhouse.
"But why always Malaysia? i dont understand that!"