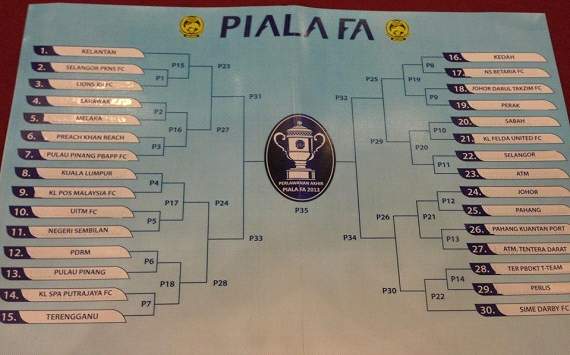 A total of 30 teams will be participating in Malaysia FA Cup 2013 - 12 clubs from Malaysia Super League, 12 from the Malaysia Premier League, the top 5 teams from FAM League and Preach Khan from Cambodia.
Kelantan FA (FA Cup Champions) and Sime Darby FC (Runners-up) have received a bye for the first round and will head straight into the next round.
LionsXII will open their campaign against Selangor PKNS in Petaling Jaya on January 25 and the winner of the tie will meet treble winners Kelantan in the second round on February 26 at Kota Bharu.
Sime Darby will either meet T-Team or Perlis in the next round while invitee Preach Khan will take on Pulau Pinang PBAPP FC in the first round.
Last season's semifinalist Terengganu FA will play KL SPA Putrajaya FC in the first round of the FA Cup 2013.
Meanwhile big spending Johor Darul Takzim FC will go up against Perak FA and their 'sibling' Johor (formerly Johor FA) will face Pahang FA.
Another interesting tie that will take place in the first round will be Selangor FA taking on Angkatan Tentera Malaysia (ATM) with the winner facing either Sabah or Felda United in the round of 16.
While the first round and the round of 16 will be a single tie match, the quarters and semis will be played over two legs, on April 6 and 16.
The semifinal is scheduled for May 25 and 28 and the final on June 26.