By
George Ankers
Bradford in Dyer straits
Watching the
Capital One Cup
final was a curious emotional experience. One minute,
MTW
found itself unsure where to look as
Swansea City
ruthlessly took apart adorable
Bradford City
with ice-hearted relentlessness. The next, angrily snarking at anyone who dared suggest that sentiment come before the laws of the game.
It was one of those rare football matches into which you could come without having a particular reason to dislike anyone on the pitch. In today's world of spit-roasting, ballboy-kicking, injunction-filing, swerve-off-the-roading money-grabbers, such a notion was outright confusing.
GOOD WEEKEND


Papiss Cisse
Few players switch so divergently between the wretched and the jaw-droppingly incredible as well as Cisse. Scored a stone-cold obliterator against Southampton but it does not even make his top two goals in a Newcastle shirt. Some players you just have to sit back and enjoy.

Bobby Tambling
At this rate, Chelsea's record goalscorer may yet get away with his title intact.

Forgiveness
On February 4, Palermo kahuna Maurizio Zamparini sacked boss Gian Piero Gasperini, insisting that he would "never forgive" him. This weekend? Called in to take charge again! A heartwarming tale of complete insanity. PaLMAO.
Swansea play the game so well and they have come so far; it is so delightful to see them at the culmination of 10 years' fine work! Oh, but it means having to watch plucky fairytalers be comprehensively outclassed and a cancer-surviving, penalty-saving hero sent off.
The closest thing we had to a baddie was Nathan Dyer proving himself to be a bit of a narcissist. Well, nobody's perfect, and a flying winger bossing a cup final on his first appearance at Wembley has a lot more reason to be self-centred than some.
Indeed, for Michael Laudrup, the world's new favourite man, there was only a funny side. Having watched Dyer and Jonathan de Guzman understandably both want to take a penalty, he took the outvoted winger off before he could get his hat-trick, laughing amiably as the disappointed youngster grumbled.
Perhaps the biggest laugh, however, came when half of Wembley exploded in a flag-waving frenzy ... for Bradford's first corner in the 86th minute. The fans had maintained their delighted spirit and got their reward. How could you not smile?
So well done, Swansea. Fair play, Bradford. Nice one, football. Now bring back the hate figures before
MTW
builds up any misguided faith in humanity.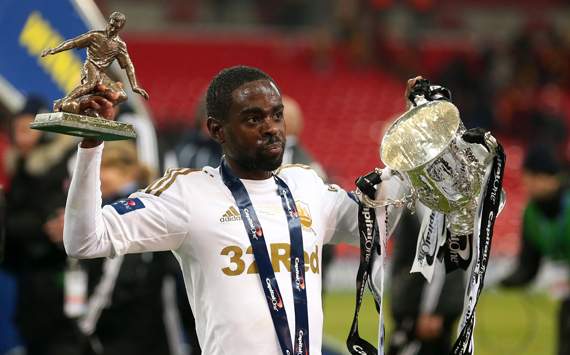 You laugh - but you can tell this one's going to eat at Nathan Dyer for the rest of his life...

Quote of the weekend

"This final will remain in history; a small part because of us, a large part because of Bradford"
- Michael Laudrup: Classier than George Clooney in an Old Spice advert wearing a monocle. Swoon.
Benitez the long-distance miracle worker
They brought him in to revitalise a dormant Chelsea striker and he succeeded.
Rafa Benitez's contract as interim manager runs out in the summer and not even Roman Abramovich is mad enough to keep him on any longer but the Spaniard has clearly had an impact that will last far beyond his tenure.
Everyone assumed that it was Fernando Torres who he was meant to revive, just because they worked together before. To that, MTW (doubtless hypocritically) retorts: Lazy journalism! Study the evidence and you will see that it is in fact Romelu Lukaku who has flourished under the Benitez regime.
BAD WEEKEND


Mathematics
"We'll not give up even if we're 12 points behind with one game to go!" So says Joe Hart. Don't make promises you can't keep, son.

Harry Redknapp
"I'm still very optimistic [of staying up]. Maybe I'm mad." Not to panic you or anything, 'Arry, but you have been forgetting things recently - like your stance on QPR overspending on distorted wages, for example. So, yes, perhaps you are going mad.

Music
Manchester United fans sang a song about Michael Carrick nonstop for roughly half an hour after their win over QPR. Maybe expand the repertoire a bit, fellas - although at least it wasn't to the tune of Sloop John B...
He may be far away at West Brom but the Belgian has responded brilliantly to the change of direction. Before the ex-Liverpool man was hired at Stamford Bridge, Lukaku had scored three goals in 12 games for club and country. Since then, he has fired nine in 17 with the indomitable power of Didier Drogba crossed with a wolverine.
All the evidence points to Benitez managing Chelsea players best from a distance of 115 miles. Perhaps, whoever takes his place next season, he should be retained as a consultant based in Bristol.
Kone 2012-13
Remember last year when everyone was sharing a viral video from a vaguely cult-like organisation aiming to force action against Ugandan warlord Joseph Kony? Before he started wandering around naked and shouting at people, charity filmmaker Jason Russell was trying to make that D-grade human world-famous.
It did not really work and Russell is clearly a bit loopy. But perhaps he was not that far wrong. Rather than draw attention to Kony 2012, what if he meant to say Kone 2012-13?
Wigan started the Premier League weekend in the bottom three but Arouna Kone scored his ninth and 10th goals of the season to sink Reading. He only cost a little more than Michu but it looks like it will be he who masterminds the Latics' most recent survival miracle. This is his year.
MTW
would like to make it clear that Arouna Kone has never ever committed any human-rights atrocities. Not even once.
Follow George

Ankers

on