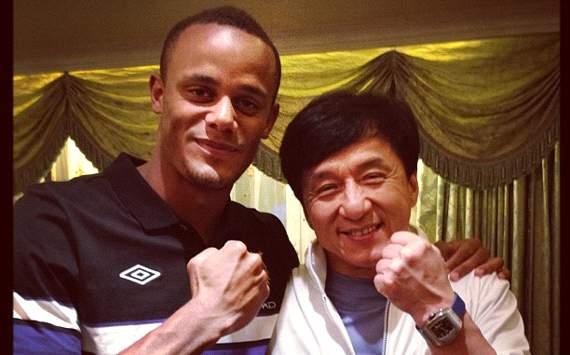 Manchester City touched down in Beijing ahead of their Winoly Cup clash with Premier League rivals Arsenal on Friday evening and were welcomed to China by a martial-arts hero.
Jackie Chan was in good Kompany as he greeted the newly crowned champions, including captain Vincent, at the beginning of their pre-season tour and even confessed his allegiance to Roberto Mancini's side.

"From now on, yes [I am a fan]," he revealed to reporters.

"When I was young, I was a fan of a football team. Sometimes I support Hong Kong, sometimes England, but from now on, because of my friends I will support Manchester City."
The Shanghai Noon star might not be tempted to call his next release Blue Moon Rising, but he was full of praise for City's pre-season tour and hoped that they could inspire a new generation of locals.

He continued: "We want to thank Manchester City for coming to China, I believe there's a billion fans and they have given us the chance to learn about football and I really hope the young children go and play because it is good for their health."

No stranger to hard work, either, Chan also recognised the hours of toil and endeavour that enabled City to emerge from the shadows of their local rivals, Manchester United, and clinch the Premier League title last season.

"You can tell how much pain, blood and tears it has taken to lift the trophy," he added.

"It really is something, 44 years [since last winning the league] is a long time."