COMMENT
By Carlo Garganese
When Juan Iturbe joined Verona on loan from Porto last August, it appeared that the career of the youngster once labelled the 'new Messi' was in danger of falling apart.
Iturbe had been tipped to emulate the Barcelona superstar after first bursting onto the scene as a 16-year-old for Cerro Porteno, and then lighting up the 2011 South American Under-20 Championship where he scored a stunning goal against Chile - embarking on a Messi-esque solo run from the halfway line.
But
La Pulguita
– as he was dubbed by the Argentine press - endured two miserable seasons at the Estadio do Dragao after Porto beat Real Madrid and Manchester United to his signature. He made just 10 appearances, failing to score, and was even temporarily shipped to River Plate.
The pint-sized winger, who was born in Buenos Aires to Paraguayan parents and moved to Asuncion shortly after his birth, was revitalised by his transfer to Serie A. Playing on the right wing of Andrea Mandorlini's 4-3-3 system, with the evergreen Luca Toni at the centre of the attack, Iturbe scored eight goals and made four assists as the Gialloblu challenged for a Europa League place until the final day of the season.
It came as no surprise that Verona exercised their option to make Iturbe's deal at the Stadio Bentegodi permanent – agreeing to pay €15 million full in the knowledge that they could make a healthy sell-on profit.
Juventus and AC Milan have now emerged as the front-runners for Iturbe's next move – the two giants locked in a bidding war while Verona sit back and enjoy the auction.
Goal
understands that after already agreeing personal terms favourites Juve have now proposed €25m, while Milan have also tabled a significant offer. Verona are currently holding out for €30m.
Such figures for such an unproven player are insane.
There is no doubt that Iturbe is a precocious talent. Regularly cutting in from the right onto his left-foot, Iturbe's acceleration, dribbling, balance and ball control do bear an uncanny resemblance to a young Messi, and there were games last season where he terrorised Italian defences. But there were also just as many matches where Iturbe made little to no impact, struggling to get involved and predictable with his movements inside. If we are ranking Verona's most important and consistent players last term, Iturbe finishes well below Toni and Romulo and perhaps even beneath powerful midfielder Emil Hallfredsson.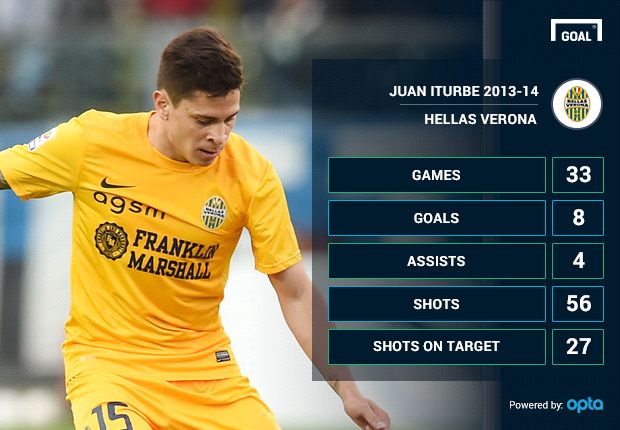 Spending such a large chunk of your summer transfer budget on a 21-year-old, who is clearly still in the developmental phase of his career and has had just one promising season in Europe, is a huge gamble.
"We have all gone mad, the market is crazy," former Milan midfielder and two-time European Cup winner Giovanni Lodetti told
Milan Channel
.
"Iturbe isn't worth that amount. It's true that he has done well, he is a good player but there are a lot of doubts.
"He has never been at a big club and he would need to integrate himself into the team."
From Juventus' perspective, it certainly smacks of settling for second best. The Bianconceri decided last December, following their Champions League exit to Galatasaray, that they would be switching to a 4-3-3 formation in 2014-15 and that the signing of at least one top-class, proven winger would be their priority in the summer market.
For many months the two top targets were Barcelona's Alexis Sanchez and Fiorentina's Juan Cuadrado. Acquiring the latter was never going to be an easy task given Juventus' relationship with Fiorentina and the Colombian's complicated co-ownership situation, but the Chilean was gifted on a silver platter, waiting to be taken home.
Barcelona decided back in April that they intended to sell Sanchez and were originally prepared to accept €30m for a player desperate to join international colleague Arturo Vidal in Turin. The failure of Juve CEO Giuseppe Marotta to close the deal, in an attempt to drive the price down, meant Sanchez remained a Barcelona player going into the World Cup.
His price, like Cuadrado's, has now sky-rocketed as a result of an outstanding tournament in Brazil – and with so many other clubs now preparing bids of their own, Juventus have almost certainly been priced out of the market. Sanchez or Cuadrado would have represented a guarantee for Juventus, they would have ensured the leap in quality to start challenging the European elite. Iturbe signifies a very expensive flutter - one that is all the more bemusing when you consider Juve already own a similar wonderkid in Domenico Berardi - and clearly a reactionary move after Marotta's complete failure to execute Plan A.
As for Milan, should a club with countless problems on and off the pitch be gambling so many of their chips on Iturbe?
The Rossoneri already possess Stephan El Shaarawy and Jeremy Menez as wide options, and while the latter could certainly be upgraded Milan surely have more pressing needs in defence and particularly in midfield following Riccardo Montolivo's injury. As it stands, Pippo Inzaghi will start the season with the following central midfield options for his own 4-3-3; Sulley Muntari, Riccardo Saponara, Valta Birsa, Bryan Cristante, Michael Essien, Nigel de Jong, Andrea Poli.
The potential sale of Mario Balotelli will raise some cash, although much less than originally hoped for following his disappointing World Cup, but it would also necessitate the need to sign a top-class centre forward. And quality centre forwards like the admired Edin Dzeko and Mario Mandzukic do not come cheap in today's market.
Iturbe certainly has more than enough talent to potentially develop into a star, but this is a transfer fraught with risk and one that, given their very different situations and needs, neither Juventus nor Milan should be taking at such a "crazy" price.
Follow Carlo Garganese on