---

BY PETER DAVIS

Follow on Twitter
---
Beijing Guoan have pushed their biggest football rival Guangzhou Evergrande to their very limits this season. A superb string of results has ensured the Chinese Super League title race is much closer than 2013, still up for grabs at the time of writing.
A reason for this bigger challenge is in no small part due to Guoan's decision to switch Nigerian forward Peter Utaka for Sweden international striker Erton Fejzullahu. Guoan have lost only once since his arrival and have not experienced defeat in over two months.
Introduced on 55 minutes with the score 0-0 against Dalian Aerbin, the fans were curious to how this striker could better the disappointing Utaka who moved on to fellow CSL side Shanghai Shenxin. Fejzullahu scored two as Guoan ran out 4-1 winners in his opening game.
Speaking exclusively to Goal, the Swede recalls that game fondly but goes on to point out that had Guoan had this team from the start, the CSL title race could be very different.
'My start was unbelievable,' he said.
'I came in the last half hour, scored two and assisted one, pretty perfect. We have a really good team now, some of the players think if we had this team from the beginning the situation would be different, since I came it's been one loss and one draw.'
Beijing Guoan, 2009 CSL Champions, have worked hard to displace 3 time winners Guangzhou Evergrande and face their foes on October 26th at Tianhe Stadium, Fejzullahu is well aware of their quality but not worried by it.
'It will feel a little bit strange to play against them [Evergrande] like when I played against Vagner Love [Shandong Luneng], you watch him and realize his different class.'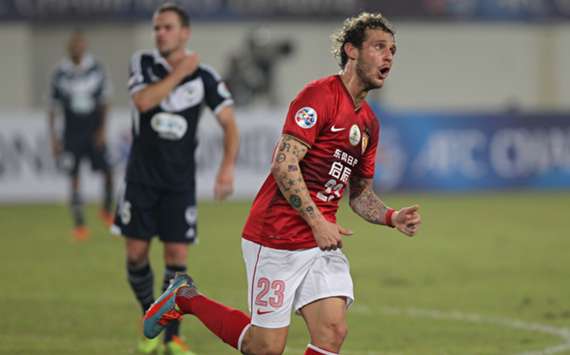 'When I see Marcello Lippi, Alessandro Diamanti, Alberto Gilardino for Evergrande it will be really strange but you don't focus on individuals when you are on the pitch. It will be a game I am going to always remember with a full stadium and hopefully a fantastic atmosphere,' said the 26 year old.
Fejzullahu is on loan from Swedish side Djurgårdens IF where he was in fine form but his form in China has been equally impressive with 7 goals in 11 games.
Suffice to say, Fejzullahu has been impressed with Chinese football which he admits does not have the best reputation in Europe.
'It's better than I thought because I had read some interviews with other players and it was quite negative but when you enter a full stadium with 40,000 fans it's what a football player wants.'
'People say you are going to China just to make cash but all the foreigners are really good here and if you don't perform you sit on the bench. I hope they will change the market here, take players who are younger, who are hungry and are trying to win something so the league will be better,' he said.
Clearly passionate and analytical about his own game, the Chinese fans were immediately taken by the quality of Fejzullahu who also holds Kosovan and Albanian heritage.
'In the beginning it was nice; there are a 1,000 times more fans in China obviously. I got a lovely gift, it was a painting of one of my pictures on Instagram and she [the fan] did a really good job. They sit outside the ground for 3 or 4 hours while we train, it's amazing.'
'In Sweden they don't approach you as they maybe see you pretty often but here when they have the chance to talk to you they have to take it and it's a really big difference. That's why I play football, if I can make people happy just being me that makes a big difference,' he explained.
With the season and therefore his loan almost over, Erton has a big decision to make but at present only has one club in mind despite obvious interest from other Chinese clubs and back in Europe.
'I'm still under contract with Djurgårdens but I heard there is big interest in me from China now but I want to stay here in Beijing, we have a good team, good coaches and good foreigners who I hang around with all the time.'
'In Beijing they don't want to use their foreigner spots for defenders, they want to use their spots in attack. Dejan [Damjanovic] is really dangerous in the penalty box, Darko [Matic] is a little bit like Gattuso just better with his feet, Pablo [Batalla] is so small but so fast and keeps the ball really well. The team is stronger, this is the first time we have everyone together and the last few games we have been great.'
Beijing Guoan finish up their Chinese Super League season against Guangzhou Evergrande away and Henan Jianye on November 2nd in Beijing.
Beijing-based Peter Davis has followed Chinese football since 2008.