By
George Ankers
How to fix something that isn't broken
Hiya!
WWLTW
has a completely crazy idea. How about taking the Champions League, an essentially acceptable competition which suffers from being slightly bloated, and pumping 32 more teams into it? Totally stupid, right?
"It is something that we are discussing," said Uefa president Michel Platini on Wednesday.
Discussing?
Mon cher
Michel,
WWLTW
hopes that you are "discussing" the idea in the same way that bankers discussed the Occupy Wall Street protest – choking on their doughnuts with laughter.
Still, there remains the very real possibility that this plan – which would involve scrapping the Europa League and feeding all its components into football's biggest ears outside of Gary Lineker – could go ahead. Therefore,
WWLTW
feels morally obliged to help Platini and his administrative amigos develop the concept.
What Steve Clarke learned this week...


Nobody is safe, Steve; not even you. Already the pressure is getting to West Brom. After a 3-1 defeat to a Swansea City side who didn't even play with a proper striker, the Baggies have now dropped to the same number of points as a Chelsea team who clearly have no idea how to score goals. It's sacking season in the Premier League - lump on Clarke as the next to go. What an amateur.
The first issue, of course, is that there will be more teams from any one country taking part – seven from England alone, if all the would-be Europa League qualifiers are moved upstairs.
The real attraction of the Champions League is seeing teams who don't often play each other face off, so there needs to be some kind of method to prevent too many mononational clashes later in the tournament.
WWLTW
recommends some kind of group stage in which all the English teams play each other at home and away, after which let's say the top four go on to a more diverse seeding process.
But what happens to Thursday nights? Thursdays are now firmly established as a football night, so how would they survive in the new Champions League? Well, Uefa could keep things interesting by bringing the teams who did not finish high enough in their national groups together in a sub-competition, perhaps also joined by the third-place teams from the main Champions League groups for the benefit of television audiences. How good would it be for the second-tier continental sides to compete for a trophy of their own?
WWLTW
has convinced itself. Uefa is leading us to a bright new damn.
Vive la revolution
!
Photo of the week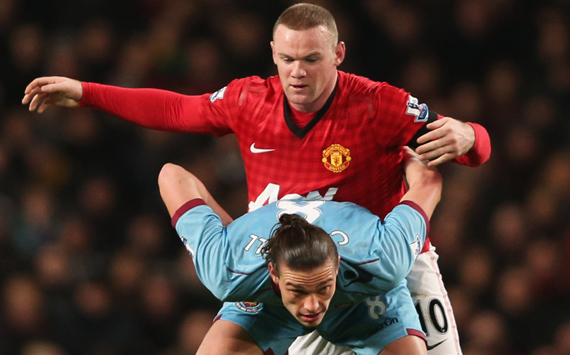 No comment

The Ballon d'Or shortlist is a joke once again
Surprise, surprise: Lionel Messi, Cristiano Ronaldo and Andres Iniesta are (let's face it, in that order) the nominees for the Ballon d'Or.
Very good, Uefa. Thought long and hard about that one, did you? That's just the sort of dreary unoriginality that is bound to happen when you lock a bunch of old men in an office together, of course.
What have any of those three done, anyway? Oh, Lionel Messi scored some more goals. Big whoop. Cristiano Ronaldo won La Liga – pah. Fernando Morientes has done that. It's old hat. And then Andres Iniesta's Spain beat the hopeless Republic of Ireland on neutral ground. Congratulations.
The real achievement belongs to Steven Gerrard. Why is he not on the list? Bias, that's why. Bias and corruption. Probably. Allegedly.
Look at the facts: Gerrard took England to the quarter-finals of Euro 2012 despite England being pants. He won the prestigious Capital One Cup and has since helped elevate Liverpool to the heady heights of 12th despite being at least two years past his sell-by date.
What we will learn this weekend...


Rafael Benitez takes his Chelsea team to West Ham. Wears a tie that is definitely blue this time rather than the clearly-not-red-but-maybe-in-a-certain-light orange effort on Wednesday. Wins 3-0. Time to find out: Do Blues fans have the bare-faced cojones to actually claim that their lack of jeers are due to his increased payment of sartorial respect rather than fickle resultism?
Gerrard is now a demonstrably average footballer yet still had a good enough year to make the Fifpro World XI shortlist – astonishing form! Plus his acting was great in 'Being: Liverpool'. His omission from the biggest prize of all is disgusting. For shame, Uefa.
Gareth Bale has one foot out of the door
Welsh wing whizz kid Gareth Bale could hardly have issued more of a come-and-get-me plea to Real Madrid if he'd rung Jose Mourinho's doorbell wearing a short skirt and too much lipstick.
Not only proving to the Portuguese that he has remembered how to take free kicks again, having outgrown the just-hit-them-hard-because-I'm-totes-the-best-at-football phase in which Cristiano Ronaldo still dwells, the Tottenham star proved that he was too good for a Liverpool team set up by Mourinho's protege, Brendan Rodgers. The next level beckons.
Any lingering worries about loyalty to White Hart Lane, meanwhile, were calmed as Bale nobly and deliberately manoeuvred his face into the path of Aaron Lennon's kick, thereby scoring against Spurs to prove his willingness to move on.
So get over Gareth, Tottenham fans, he's already outta here. Just take Madrid's £50 million and head straight back to the Southampton megastore and pick yourselves up a brand-new model from whence the original came. All the kids are asking for a Luke Shaw this Christmas, anyway.
Follow George Ankers on