Malaysia Super League Team of the Season so far
Last Updated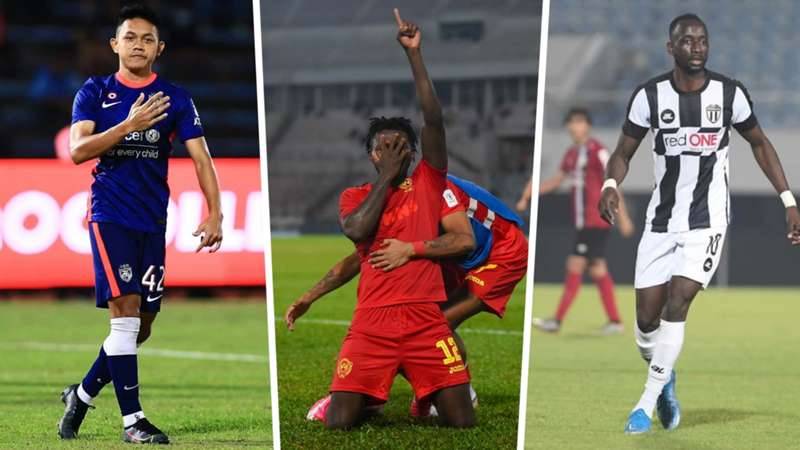 Johor Southern Tigers

Farizal Marlias (Johor Darul Ta'zim)

On the wrong side of 30 but it doesn't look like age is a factor for Farizal after yet another sterling display between the sticks in the first half of the season. Started 12 of the 13 Super League matches for the reigning champions and have only conceded six goals in the process, one of which was a penalty to Sabah's Levy Madinda.

Seven clean sheets in those matches meant that Farizal has beaten and battered away opponents in more than half of the matches that JDT have been involved in. Showing no signs of slowing down, Farizal more than cemented his place as the undisputed number goalkeeper in the country with his display this season.

Sports Regime

La'Vere Corbin-Ong (Johor Darul Ta'zim)

Continuing from his remarkable 2020 season, Corbin-Ong is the epitome of consistency that has seen him appear and played every single minute of JDT's season thus far, keeping them at the very top of the Super League table and part of the best defensive unit in the league.

From the 13 matches played, he has only been shown the yellow card twice which showed that this marauding left back uses his physical prowess to overpower his direct opponents and teams very seldom get much joy down his side of the pitch.

Johor Southern Tigers

Mauricio (Johor Darul Ta'zim)

The leader of the JDT defence that has been their bedrock of their return to the summit of the Super League, this season has shown the big Brazilian's influence and importance to the Southern Tigers.

His towering presence was sorely missed midway through the Terengganu game as well as the subsequent one against Kuala Lumpur City. Offering not only his aerial capabilities, Mauricio's presence in the defence brings about calm to those next to him and as a unit, JDT's defence becomes much better when he's on the pitch.

Terengganu FC

Muhammad Mohd Faudzi (Terengganu)

A centre back on the rise that has received plenty of accolades this season in helping Terengganu be a title challenger to JDT, it was his performance against the reigning champions that showed just why head coach Nafuzi Zain put plenty of faith in the 25-year-old.

Strong and robust in his style of play, Muhammad has also produced a good partnership alongside Carli de Murga in the heart of Terengganu's defence to be more of a sweeper, constantly mopping up behind de Murga.

Penang FC

Quenting Cheng (Penang)

This time two years ago, Quentin was an unknown because he had gone with his family to stay in Australia but a chance call-up to the Malaysia Under-23 squad for the 2019 SEA Games propelled his name to prominence.

Going on loan to Penang this season has proven to be the right call with Tomas Trucha entrusting the 21-year-old to be the de facto right back of choice and has Quentin has repaid the faith with a stellar season in Penang's incredible stay at the top half of the Super League table.

Johor Southern Tigers

Natxo Insa (Johor Darul Ta'zim)

This 2021 season has seen Insa rediscovering his form after finding last season's stop-start campaign too difficult to get his rhythm back after a long injury lay-off. His performance has been so good that even Hariss Harun found it difficult to regain his place in the starting line-up.

Now a first choice option for Benjamin Mora at the base of JDT's midfield, Insa's is the link-up between defence and attack, very often being the first to start an attack and his range of passing has been the perfect arsenal for the reigning champions.

Terengganu FC

Makan Konate (Terengganu)

An astute signing by Terengganu, Konate is the lynchpin in the midfield and his creativity has seen him being directly involved in six of the 20 goals that Terengganu has scored thus far.

With five assists and an amazing long-range strike against Kuala Lumpur City under his belt, his pairing with Dechi Marcel is one of the best midfield partnerships in the league.

Sports Regime

Hakimi Abdullah (Terengganu)

A breakthrough season for Hakimi who was one of the plethora of youngsters snapped up by Terengganu this year, the left winger is proving to be a real hit with four goals scored for his new club thus far.

One for the history books, it was Hakimi who struck the killer blow and will forever be known as the goalscorer in JDT's first ever defeat at Sultan Ibrahim Stadium.

Sports Regime

Arif Aiman (Johor Darul Ta'zim)

Another youngster who has had an outstanding season is this teenager who is not only proving that he has what it takes to play at the highest level of Malaysian football but also earning his spurs in one of the toughest squad in the league.

An amazing dribller, Arif's is not only confident on the ball but never seem to be rush his decision, able to make the right decision whether that is to go for goal or find a team mate. Definitely Malaysia's most precocious talent at this point in time.

Sports Regime

Bergson da Silva (Johor Darul Ta'zim)

Brought in as the last-minute replacement for Jonathan Herrera, Bergson's introduction to Malaysian football was a goal within just 17 minutes after coming on in the game against UiTM, that was a preview of things to come.

10 more goals later in the next 10 games has made Bergson undoubtedly JDT's most lethal ever import strikers. Arguably the most mobile of import strikers to ever adorn the JDT shirt, Bergson's all-round play makes him an incredibly dangerous player to be left unmarked.

Selangor FC

Ifedayo Olusegun (Selangor)

The league's top scorer as it stands with 13 goals, Ifedayo is proving he's not a one-hit wonder and is definitely making it personal mission to retain his Golden Boot from last season.

Responsible for 65% of Selangor's league goals thus far, it is fair to say that his contribution to the Red Giants have been vital and they will be sitting much lower than fifth without him in the side.