Premier League
Zylofon Cash is new headline sponsor of Ghana Premier League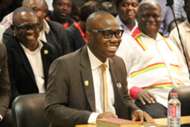 Ghana Premier League has received a major boost following a deal between the Football Association and Zylofon Cash, who now becomes the new headline sponsor of the championship.
The contract, which was signed at an event on Thursday, has been greeted with joy, considering the league had gone three years without a lead partner.
Although the exact financial details of the deal has been held confidential, media reports say the topflight will earn $10 million over a five-year period.
"We are eternally grateful to the chief executive of Zylofon Group, Nana Appiah Mensah, and his team for their decision to invest in the Ghana Premier League and Ghana football," GFA president Kwesi Nyantakyi said at the event.
"I will like to assure you that your decision to come on board as a sponsor is a laudable step taken and a very worthy cause.
"The money will go into developing the league, the clubs, management and players' welfare.
"The Executive Committee and owners of the clubs have reviewed this sponsorship and appreciate its details."
The topflight has been without a headline sponsor since First Capital Plus Bank – now Capital Bank – seceded its support in 2015 over restructuring reasons.
"Zylofon Cash has proudly taken the decision to be the headline sponsor of the Ghana Premier League for the next five years," said, Appiah, who owns Division One club Star Madrid FC.
"Now, the Ghana Premier League would be called the Zylofon Cash Premier League."
Zylofon Cash is a web-based platform which allows people to monetize their artistic talents by uploading contents of their works online for possible commercial engagement on contractual basis.
The outfit is part of the Zylofon Group of Companies.