KPL
Zoo Kericho player reads mischief in compensation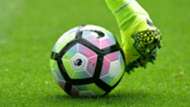 Zoo Kericho midfielder Mark Ongwae is in the dark over the compensation he was set to receive after wrongful dismissal from Muhoroni Youth.
Paul Odhiambo and the former Shabana player were to be paid a combined amount of Sh300, 000 by the Awasi-based side. Despite the Moses Adagala owned team receiving monthly grant from KPL, the two players have not been paid.
Sports Tribunal orders league kick-off
"Muhoroni was among the clubs that received their grant and our monies were supposed to be deducted. Kefwa Secretary General Jerry Santo assured us that we were to receive our monies, but until now nothing has been done. IDCC ruled that we should be compensated, why is it not happening?" Ongwae told Goal.
A few weeks ago, Adagala said that the two players will have to wait a little longer because the club appealed the ruling. "We appealed the ruling and until the final verdict is made, then we cannot pay them."