UEFA Champions League
Zidane has made 'incredible' turnaround at Real Madrid, says Petit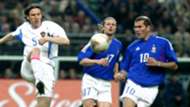 Emmanuel Petit has affirmed he is delighted to see the impact former France team-mate Zinedine Zidane has made since taking over at Real Madrid, while acknowledging he would be rooting for Juventus in the Champions League final. 
Petit and Zidane teamed up to devastating effect to lead Les Bleus to World Cup and European Championship glory in 1998 and 2000, respectively.
Gazidis defends Wenger contract
And the ex-Arsenal star confessed he was shocked to see Zizou achieve so much success so soon after taking over from Rafa Benitez, as the coach aims for his second successive Champions League title on Saturday.
"I'm of course surprised — being the manager of Real Madrid is not an easy job. Winning La Liga at Real Madrid is not easy. They change managers every two seasons a lot of the time," Petit explained in an interview with bwin, who have previewed the final here, ahead of the weekend's showpiece. 
"What he's doing at Real Madrid is amazing — he has charisma. Even when your name is Zinedine Zidane it doesn't mean you'll get the support from the dressing room. The name will get you respect but after a couple of weeks the players will test you, they will question your decisions. They will try and fight your authority.
"The way he managed the team and the turnaround he's brought about is incredible. Before Zidane, some managers tried to rest Ronaldo but they couldn't as he wanted to play every game. Zizou has convinced him he should play the games he can to really help the team. Then he goes and scores a hat-trick against Atletico in the Champions League semi-final!
"It didn't work as well with Ancelotti and Benitez — when they tried the players didn't listen and fought the authority. Zidane has communicated in a smooth way, he's a natural. It was a surprise when he won the Champions League last season — I wanted to see how he'd cope with La Liga over the course of a season.
"If Zidane could win the Liga regularly, that would be more important to me than the Champions League — and he's done it in his first season. The week in, week out test of that league is the real test of a manager."
Despite his affection for his ex-colleague, however, Petit, who played for Barcelona in a glittering career, is hoping Juventus take the big prize.
"I have respect for both clubs but for one player in particular I would love Juventus to win the Champions League — I want them to win it for Gigi Buffon," he said.
"This guy, I love him. He's such a great example to the younger generation. How he handles himself as a player and a person.
"To me he's one of the greats, like Xavi, [Andres] Iniesta, [Andrea] Pirlo, [Xabi] Alonso at Bayern Munich, those who you never hear from, they let their football do the talking. Then when they do talk, they are intelligent, educated and speak with a pure love of football. For this reason, I want Juventus to win for Buffon."