South Africa
Zeca Marques: Collecting four points from Nigeria a huge positive for Bafana Bafana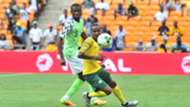 Former Moroka Swallows head coach Zeca Marques believes collecting four points against Nigeria is a huge plus for Bafana Bafana, but he has called for consistency.
As one of the most highly qualified coaches in South African football, the coach has urged the 1996 African champions to keep going and focus on beating Libya.
"Look, we knew it was going to be tough because Nigeria is a solid team and that showed when they scored first. That goal put us on the back foot, but we showed character to bounce back and overall it was a fair result based on the performance of the two teams," Marques told Goal.
Although the South Africans were looking to secure a win over the Super Eagles and qualify for the 2019 Africa Cup of Nations, they drew 1-1 and they will now have to defeat Libya in their final Group E match next year.
"It is that time of the year where players must be resilient and create it for themselves. They must be responsible for their actions and cannot wait for other people to do it for themselves," he continued.
"If that is the case then that means we don't have the quality to play in such tournaments, they must step up on the plate. They must be capable of making things happen when they are called upon and the match against Libya will be a test to the players, but they have to go to Libya and win at all costs," said Marques.
Speaking on the return of midfielder Thulani Serero, who was like a shadow of his former self at the FNB Stadium, the experienced mentor added that players must take responsibility on the field of play.
"I think he plays with pedigree and is one of the best players in the country, but we can't keep living on hope. The players must deliver and if you look at top players around in the world, they deliver when it matters the most," noted the coach.
"Top players come to the party when they are expected to shine. We have good players in the team, but they must just perform and do the job – that is simple," responded the Portuguese-speaking tactician.
"On the empty stadium, I am sure the fans want results and if Bafana are not consistent then we will see empty stands and the visiting fans dominating us on the stands," he reflected.
"I think people have lost faith in the team because of the results and this means the players must impress the fans by getting results on the field," continued the 57-year-old.
"However, I think collecting four points against Nigeria is a huge plus for us. Who would have thought when the draw was made that we would get a win and a draw?" he asked.
"We proved we can perform, but we need to be consistent and beat Libya to reach Cameroon," concluded the former Moroka Swallows mentor.