Arsenal
Iwobi: I'm treated like a king in Nigeria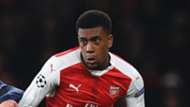 Arsenal forward Alex Iwobi says he's treated "like a king" in Nigeria having pledged his international future to the country.
Iwobi, 20, grew up in England after moving to the country from Lagos, Nigeria, when he was four years old.
Arsenal bigger than Ozil & Alexis - Wenger
Even though he played for England's Under-16s, Under-17s and Under-18s, Iwobi swapped his allegiance to the Super Eagles in 2015 and has gone on to make seven appearances so far.
Iwobi was shocked by his reception when he arrived to play for Nigeria and says supporters in the African country are more likely to ask for football boots and money, rather than autographs.
"Everyone appreciates you [in Nigeria], you're almost like a king!" he told the Guardian. "When I arrived at the airport I thought, I'll just have my earphones in, but everyone was like 'Iwobi! Iwobi!' Oh gosh. Hi guys!
Mustafi makes promise to Arsenal fans
"I didn't know what to expect. It was just mad. I always go with Kelechi Iheanacho. When we go we get escorted. Because I'm not used to the Nigerian culture as much as they are, they do help me with it.
"I can't really speak the language that well. They help me with the fans. The fans are very different there. They don't ask me for autographs, they ask for boots, money."
Iwobi described the crazy scenes on his Nigeria debut and suggested fans in the country of his birth are much noisier within grounds than their Premier League counterparts.
"At my debut we played in a stadium that holds 30,000 and there was 60,000 – I don't understand how. People were standing on the floodlights, on the scoreboard," he added. "I was thinking, 'What? This isn't even safe!'
Klopp reveals shock at Firmino signing
"But people there will do anything to watch the match. Sometimes in a Premier League game the fans are a bit quiet but in Nigeria you just hear trumpets, everything. The atmosphere is so different compared to England."
Iwobi, who's scored one goal and assisted three in 2016-17, is competing for a place in Arsene Wenger's starting XI to face Stoke City on Saturday.
He won't take part in the upcoming Africa Cup of Nations as Nigeria failed to qualify for the tournament.