NPFL
Yobe Stars' Paul Godwin eyes first start against Sunshine Stars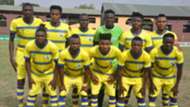 Yobe Desert Stars' Paul Godwin has expressed his frustration following his lack of game time but welcome the prospect of playing his first game of the season when his side slug it out with Sunshine Stars.
He has been under the shadow of impressive Itodo Akor but the goalkeeper explained that he is ready to seize his chance against the Owena Whales.
"It is not always easy to sit on the bench because it is the desire of all players to play regularly," Godwin told Goal.
"I had some issues at the start of the season but I have overcome those difficult times now and I am raring to go now for Yobe Desert Stars as we face Sunshine Stars this weekend.
"It is like homecoming for me because it was with Sunshine Stars that I started my career as a professional under late coach Kafaru Alabi and the memories are still very fresh.
"We are doing well in the league in only our first season and we promise to continue to do more to ensure that we remain in the topflight at the end of the season."