Manchester United
Wright: Mourinho's turning into Wenger... he's tarnishing everything he's done!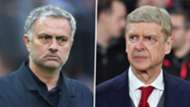 Manchester United manager Jose Mourinho is in danger of emulating the "car-crash" ending to Arsene Wenger's reign at Arsenal, says Ian Wright, with the Portuguese tarnishing his reputation.
Having enjoyed immediate success upon taking over at Old Trafford – landing three trophies in his debut campaign – the former Chelsea and Real Madrid boss ended 2017-18 empty-handed.
Frustration in the summer transfer market, which saw him miss out on several top targets, has left Mourinho cursing his luck and having to work with a squad he considers to be no better than the one which finished last season 19 points adrift of arch-rivals Manchester City.
A defeat to Brighton did little to help Mourinho's situation, with former United midfielder Lee Sharpe suspecting that he will be sacked before Christmas.
And ex-Arsenal striker Wright told The Sun of the similarities between Mourinho's current situation and that which saw Wenger leave the Gunners after 22 years.
He said: "The saddest thing of all when I look at United under Jose Mourinho? As much as I respect him as a manager, I can't see any way it is going to turn around.
"We all know about Jose and his third-year syndrome. But, listening to him talk, it's as though even he has accepted it himself.
"It has me screaming: 'Come on, man. You'll go down as one of the greats, but the way you're acting will tarnish everything you've done'.
"In many ways it's like the last days of Arsene Wenger.
"People were watching Arsenal because it was car-crash football. United are fast turning into the same.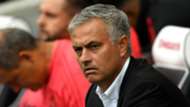 "You can't say there has been no progress under Jose, because there has. They've won a Europa League and League Cup, and last term finished second in the table.
"But that's been to the detriment of the sort of football which has long been their mantra.
"The people upstairs can't be happy, the fans certainly aren't and Jose's definitely not. And as for the players? It's clearly not a good situation. Something really isn't right.
"Mourinho has had a pop at players time and again, he had another go in pre-season and now finds himself having to call on some of them.
"I'm not for one second suggesting in any way they're throwing games. But equally, you cannot tell me some aren't thinking, 'This serves you right'."
United put in an error-strewn performance in their last Premier League outing, with only a late Paul Pogba penalty adding some respectability to a 3-2 defeat away at Brighton.
Things are not about to get any easier for the Red Devils either, with their next fixture seeing them welcome fellow title hopefuls Tottenham to Old Trafford.