World Cup
'Why won't we scream?!' - Nigerians celebrate Argentina World Cup dismissal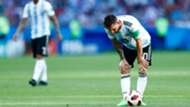 Argentina's torrid run at the 2018 Fifa World Cup has come to an end after bowing to a 4-3 loss to France on Saturday.
Kylian Mbappe's brace with Antonio Griezmann and Benjamin Pavard's lone strikes overshadowed Angel Di Maria, Gabriel Mercado and Sergio Aguero's efforts for Jorge Sampaoli's charges in the Kazan Arena, thus, halting their campaign in Russia.
The South Americans progressed to the knockout round of the football fiesta as the second best team in Group D ahead of Nigeria after Marcos Rojo's late effort snatched a 2-1 win over the west Africans on Tuesday.
Four days after, the Albiceleste will be joining the Super Eagles to watch the World Cup at home and Nigerians have taken to social media to react.
Messi really about to leave the World Cup with fewer goals than Ahmed Musa 😭😭

— KemKem (@Feyikemi_O) June 30, 2018
Aside from the Messi factor, these Argentines are so ordinary. A big shame that the @NGSuperEagles cannot tear them apart #FRAARG #WorldCup

— Shina Oludare (@sportingshina) June 30, 2018
Please anyone who has Maradona's contact should help me pass this on. 🖕🖕🖕🖕🖕🖕🖕🖕🖕🖕🖕

— Salihu Tanko Yakasai (@dawisu) June 30, 2018
But thank God, this France team will mess up Nigeria.

It could've been a football massacre. #BringRussiaHome

— POOJA... (@PoojaMedia) June 30, 2018
🎶 Argentina Issa Go!🎶

— Babs Okubote (@BabsBurton) June 30, 2018
That's how God saved us from heartbreak. The Tuesday own af heal and finished

— ЯЄЄηO (@kingsleyrino) June 30, 2018
.@aguerosergiokun please pass it on to your former Father in-law.

With love
Dawisu pic.twitter.com/ER0Xp3tSFx

— Babajide Fadoju (@BabajideFadoju) June 30, 2018
Bye bye @TeamMessi You stayed one game too long but it was still #Nigerian boy @KMbappe that sent you home #SoarSuperEagles #FRAARG pic.twitter.com/2rbFrjbp8Q

— Dr. Wiebe Boer (@WiebeB_Africa) June 30, 2018
Las Las all of us na house we end for same week 🤗🤗..... #FRAARG 🇫🇷🇦🇷

— ASISAT M.O.N (@AsisatOshoala) June 30, 2018
Au Revior Argentina. Le evil tu done le this worldcup la enough

— ... (@Ngamsi_) June 30, 2018
Argentina is out. Why won't we scream? 😏#NigeriaUnitedWeShine pic.twitter.com/08rHGzLxAm

— BHM (@bhmng) June 30, 2018
If Nigerians can support the Nigerian government the way they supported France against Argentina, Nigeria will be a better place to live.😄😄😄

— Steven and 14 others (@iamSteveOla) June 30, 2018
😂😂😂😂😂😂 too sweet. pic.twitter.com/tU5ucAVoH8

— Najma🌟 (@Faatima_zara) June 30, 2018