Premier League
Why Szczesny should be Arsenal's No.1 next season instead of Cech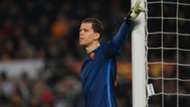 ---
COMMENT
---
There are a plethora of questions that need to be answered at Arsenal this summer, from the future of manager Arsene Wenger to contract talks with Alexis Sanchez, Mesut Ozil and several other first team stars. These key decisions over the coming months are likely to go down in history as some of the most important made in the club's history and while the main focus is likely to be on player acquisition there is one position on the pitch where Arsenal are able to promote from within: goalkeeper.
'Wenger has strong support from fans'
It's almost two years since Wojciech Szczesny last played for Arsenal, keeping a clean sheet in the 2015 FA Cup final victory against Aston Villa. The Poland shot stopper has spent the past two seasons on loan at Italian giants Roma where he has become the club's No.1 shot stopper ahead of Brazilian keeper Allison. 
Szczesny's temporary, albeit long, departure from north London was made by Wenger for a number of reasons at the time; Petr Cech had arrived from Chelsea, David Ospina was reserve shot stopper and there was the small matter of Szczesny smoking in the changing rooms at St Mary's which is more than likely to have influenced his manager's decision to send him out on loan for guaranteed game time.
Ironically, Cech is set to start behind the sticks against Southampton at St Mary's on Wednesday night where he will be hoping to keep his 11th clean sheet of the season so far. The goalkeeping conundrum at Arsenal has long been a problem for Wenger but last season's Golden Glove winner seemed to solve those issues when he signed from Chelsea in the summer of 2015. However, mistakes have crept into his game over the past 12 months where Cech's catching and distribution have regressed and goals conceded at his near post have become more commonplace.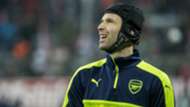 That's not to say Cech is coming to the end of his illustrious trophy-laden career. The 34-year-old still possesses enough quality to compete at the top level and his recent display at White Hart Lane was testament to that, but it's clear that Arsenal require a level of consistency from a position which has generally been so hard to strengthen since the days of David Seaman and Jens Lehmann. 
No Barca offer for Bellerin, says agent
The likely departure of reserve goalkeeper David Ospina this summer will leave Arsenal with three senior goalkeeper in Cech, Szczesny and Emiliano Martinez. Despite signing a new long-term contract in November it's almost certain that the Argentine won't be No.1 at Arsenal, but the chances of Szczesny coming back to compete with Cech for the coveted spot remains a distinct possibility.
Speaking in January to Sky Italia, Szczesny said: "My Arsenal career is in the hands of Wenger, I'm curious myself. But I trust him having been in his hands since I started my career as a teenager." It's clear that the 26-year-old has huge respect for the manager which gave him his chance in the first team and understandable that he wants to come back to Arsenal in the summer. This season, Szczesny has become a reliable asset for Roma, benefiting from the less cross-heavy nature of Italian football which means he has been able to focus more on his shot stopping.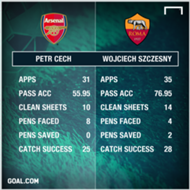 The mooted €16 million buyout clause in his Arsenal contract appears to be putting off Roma from signing their man, with fellow Serie A side Napoli also linked with the Pole in recent weeks. His stats are considerably better than Cech's this season and while he has played four fewer games than the former Chelsea man, his passing accuracy rate, catch success and penalties saved are all figures which Szczesny trumps his goalkeeping rival in.
Wenger: Arsenal don't need CL money
Szczesny is a fan favourite at Arsenal and next season could open up a genuine opportunity for the goalkeeper to stake his claim for the No.1 spot. Cech remains a top class shot stopper but the competition will only serve to benefit a side who have suffered from a lack of quality between the sticks in recent times.