Euro 2016
Why Hodgson's England simply cannot compete with Premier League stardust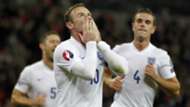 COMMENT
By Richard Jolly

England doesn't expect. Not really. Not much. Not anymore. The swaggering optimism that was all pervasive at the time of the 2006 World Cup has gone. It has been replaced by, to paraphrase the Sex Pistols, apathy in the UK.

England played in front of just 40,181 fans against Norway last month. More seats were unoccupied at Wembley than were filled. There were more than 30,000 empty chairs for Thursday's visit of San Marino. No wonder there is talk of taking the national team around the country and letting an NFL franchise play in the national stadium. They might sell more tickets. It would be less embarrassing if England could sell out Villa Park or St James' Park.

Some would say it is more fitting, too. Roy Hodgson sent for Fabian Delph from the Aston Villa engine room. Last month, he called up Jack Colback, Newcastle's new signing. These are not the men who grace Wembley on cup final days. As well as Delph did in Switzerland in September, it feels like England have been downgraded.

Some would say that is the Hodgson way. He downplays expectations in an era of lower aims and lesser achievements.  A few allowed positivity to get the better of them and tipped England to reach the last 16, even the quarter-finals of the World Cup. Yet there could be little surprise that they exited in the group stage. The real shock was that Costa Rica won a pool including Italy and Uruguay. England accepted their fate. The only real outcry calling for Hodgson's sacking came from the section of Liverpool fans pursuing their own vitriolic agenda after his disastrous spell in charge at Anfield.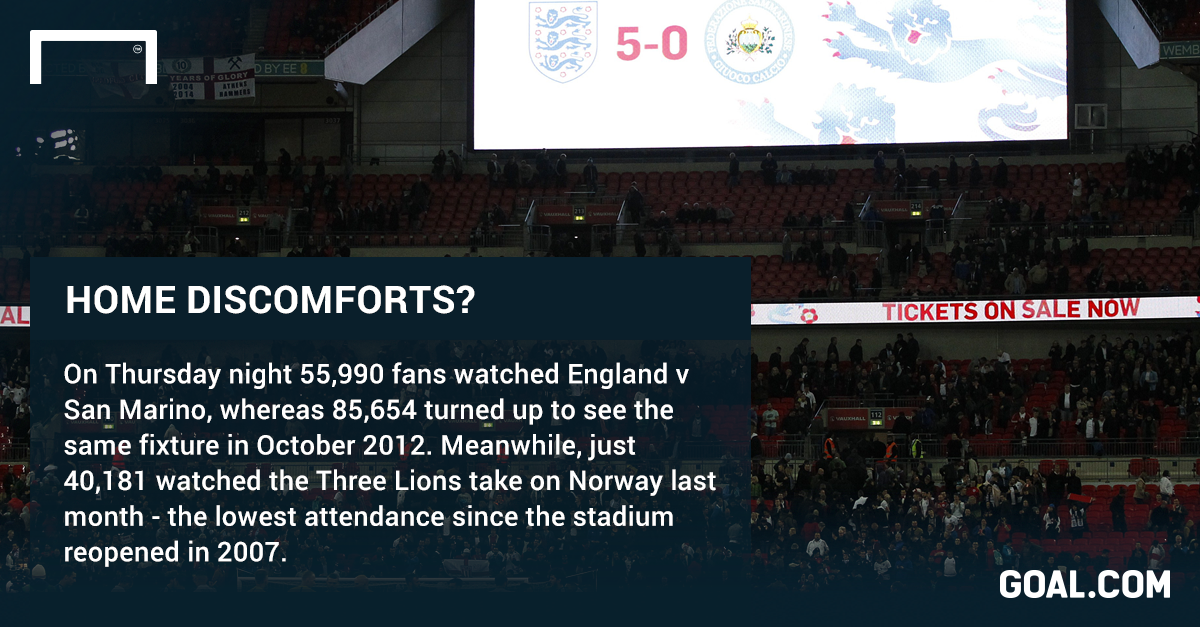 It is doubly telling. Partly because, like there is a shortage of high-class players, there are few obvious candidates to manage England. And because the club game colours perceptions and dominates the agenda. The balance of power has swung decisively their way. England are overshadowed.

Liverpool produced a show of strength to keep Daniel Sturridge out of Hodgson's grasp for the current internationals. He could do little other than accede. They have greater clout. They can play 60 games in a year to England's 10 or 12. Top clubs' turnovers dwarf that of the national team. Manchester United brought in £433 million for the last financial year.

Infamously, United claimed they have 659 million followers worldwide. Even if only a quarter of those 'followers' are actually fans, that gives them almost 165 million supporters. That is still more than three times the number of people in England and, lest we forget, many of them are not football fans.

Now it is hard to deny the standard is higher in the Champions League, or in meetings of two of the Premier League's top seven, than in many international fixtures. Now there is more glamour lower down in the division than in some Euro 2016 qualifiers. World Cup revelations aren't confined to the top clubs. West Ham have Ecuador's Enner Valencia, West Brom the Costa Rican Cristian Gamboa. Graziano Pelle was uncapped when he joined Southampton, now he has broken into the Italy squad.

In contrast, Hodgson's men face Estonia on Sunday. There will be precious little stardust, and not just because England have been reduced to picking some players who don't get in their club sides. Estonia boast no one from the Premier League and a solitary Championship footballer, Sergei Zenjov of Blackpool.

MINNOWS | England won their previous two meetings against Estonia 3-0
In a sense Uefa haven't helped by expanding Euro 2016 to 24 teams. More inclusivity automatically makes something less exclusive. England can afford to drop 10 points and still qualify. Even if they slip up in Tallinn, it may not matter. If friendlies already seem insignificant, now some competitive games might as well.

But perhaps England is unique. Other national teams benefit because footballers operate abroad, fans do not see them regularly and they are brought together with patriotic purpose. Germany and Spain have strong domestic leagues but the success of Die Mannschaft and La Roja in recent years mean they are not seen as subservient to the superpowers of the club game.

England had its own supposedly golden generation. They won nothing. Indeed, their failures help account for the fatalistic attitude many adopt now. People don't believe. They have reason on their side.

Since the 1990 World Cup, England have never reached a semi-final of a major tournament on foreign soil. Denmark, Germany, Holland, Sweden, Bulgaria, Italy, the Czech Republic, Croatia, France, Portugal, Turkey and Greece all have. And that's just the Europeans.

Compare and contrast with the excitement offered by club football, with the addictive nature of this non-stop drama. Storylines are not put on hold by a month-long wait for the next match. Superstars can be imported, silverware secured. It offers everything  England does not.

And so for many the international break is just that, a brief detox from the compelling club game. If England was supposed to be the ultimate, now it seems less significant.