Premier League
Why Arsenal fans should be protesting against Kroenke — not Wenger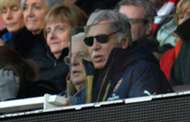 ---
SPECIAL REPORT
---
Talk around Arsene Wenger's future will not stop until he or the club publicly announce a decision on whether the Arsenal boss will still be at the helm next season.
The Frenchman is in an understandably sensitive position due to the amount of supporter discontent floating around Emirates Stadium but the feeling remains that he could stay on if Arsenal finish the season strongly.
Before Tuesday night's latest capitulation to Bayern Munich, around 150 supporters sang "Arsene Wenger, you're killing the club" as they marched towards the ground, which was ironically built to Wenger's demands. While Arsenal's stadium debt is now manageable, the fans' disenchantment shows no sign of stopping as the Gunners have once again nose-dived out of both the Premier League title race and Champions League knockout phase.
But is Wenger really the man to blame? Are Arsenal fans focusing their vitriol on the wrong person?
Stan Kroenke became majority shareholder of Arsenal in April 2011, when he bought the shareholdings of Lady Nina Bracewell-Smith and the late Danny Fiszman. It was a controversial takeover at the time and prompted then Arsenal chairman Peter Hill-Wood to claim "his sort" were "not welcome" at the club. That stance soon changed as Hill-Wood stepped down, sold his shares to Kroenke and was replaced by Sir Chips Keswick - another former Etonian banker - in the summer of 2013.

'Time for Change' was a protest organised towards the back end of last season, which didn't specify what exactly needed changing at Arsenal. There were murmurings that 'Kroenke should go' but, in general, the protests have always focused on the manager, as they did before the second consecutive 5-1 battering by Bayern.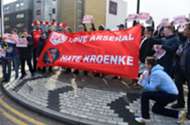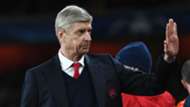 Kroenke has only given one media interview throughout his tenure as majority shareholder - hence the nickname 'Silent Stan' - when, in 2011, the American billionaire praised
Manchester United
's owners and, more relevantly, an under-fire Wenger.
"Arsene Wenger is just an unbelievable manager," said Kroenke. "I think he's a tremendous person and he is just as good as there is. You can't judge a manager on one game or on one stretch of games. You judge him over time."
Luiz having the last laugh on PSG
Those words are pertinent. Since Kroenke's takeover, Arsenal have won the FA Cup twice and two Community Shields. They have failed to go beyond the Champions League last 16 for seven consecutive seasons and the 10-2 aggregate loss to Bayern represented an unwelcome record-breaking beating for an English side in the competition.
Kroenke has never put debt on Arsenal but did court controversy after receiving a £3 million 'strategic and advisory fee' two years in a row, which was eventually ended after its legality was challenged last season.
The billionaire owns several sporting franchises, including Denver Nuggets (NBA), Colorado Avalanche (NHL) and Colorado Rapids (MLS), but, from an Arsenal perspective, it is the LA Rams (NFL) who are the most interesting case study.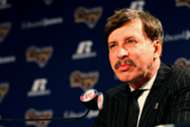 Andrew Grant, a supporter of the Rams, told Goal that Kroenke's motivations should be questioned. He believes that the "lies" that saw the Rams move from St. Louis to LA in 2016 provide enough evidence to show that Kroenke doesn't care for the team's supporters.
"I don't know about much of the rest of the country but in St. Louis, we hate him," Grant told Goal. "Right after he moved the Rams to LA people were chanting "Kroenke sucks" when the owners of our other sports franchises made a public appearance together.
"The Rams are really, really bad. Their last few years in St. Louis were better but they only won four games this season. They had a really good run from 1999-2003 but that was before Kroenke was majority owner. When they moved to LA, they were coming off the worst six- or seven-year run in the history of the NFL."
Messi the worst & nearing the end
Because he never speaks to the media, 'Silent Stan' never responds to such criticism. Indeed, he rarely even speaks at AGMs and Grant believes that this is almost certainly a tactic to avoid having the spotlight shone on him when his teams underperform.
"Kroenke never talking to the media isn't necessarily bad, but to not talk to the local media [in St. Louis] for four years and then move our team kind of sucks," he argues. "I don't think many fans actually care about seeing their team's owner on TV. I think he knows that by being less visible, people end up blaming the managers and coaches for losing instead of him."
The main point of contention among Arsenal supporters right now is that the club are 'stale'. Huge numbers of fans believe that Wenger has taken the team as far as he can and that the board should show enough courage to make a decision at the end of the season.
Billionaire owners rarely take over a team because they're a fan and there has gradually been an understanding of this in English football and beyond, but Grant suggests Kroenke's motivations are structured in such a way they make it hugely difficult for his franchises to breed success. 
"I think it's pretty clear to see that Kroenke doesn't care about winning," he claims. "The Avalanche are having the worst season in NHL history, the Nuggets are consistently below .500 (win percentage), and the Rams are a model franchise for futility. 
"All of his teams have been bad for the last five-plus years and I don't think that's going to change. His only motive is profit, and the way he moved the Rams out of St. Louis shows that he is willing to go through the fans to get what he wants."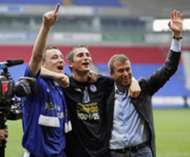 Former Rams cornerback Janoris Jenkins told NBC Sports Radio that he was always discouraged from speaking to Kroenke and admitted that it influenced his decision to leave for the New York Giants.
Indeed, whereas Chelsea owner Roman Abramovich is known to take a keen interest in his club's fortunes on and off the pitch, regularly making congratulatory trips to the dressing room after games and sometimes being spotted at youth team games, Kroenke is quite the opposite. 
"It was always the coaches - not the owners - coming around to see the players," said Jenkins. "It was always, 'Don't speak to Stan Kroenke' when I was in St. Louis.
"But here, in New York, everybody is everybody, everybody is treated the same. The owner just walks around and communicates with you and gives you a reason to play football. You know that you're playing for someone that is always around and always cares, someone that you can communicate with.
WATCH: Can Mourinho best Conte?
"At the Rams, I felt I was just playing for my team-mates and my coaches. They said, 'If you ever see Stan come around the facility, don't speak to him.'
"Once I heard that during my rookie year, I just knew I wasn't going to be comfortable because when he came around it was like everybody better be straightforward, nobody better look at him! It was kind of crazy."
If Kroenke has no desire to interact with the players or be around the team, then why own the franchise? At the moment, the bizarre silent ownership at Arsenal maintains a level of focus and pressure on Wenger as the sole face of the club - and, by definition, its failings.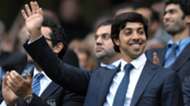 The Frenchman warrants criticism for certain decisions and a degree of tactical naivety in big games, but should Kroenke's input at the club match not that of Sheikh Mansour at
Manchester City
and Abramovich at Chelsea? There are questions over their own motivations but at least they have, at the very least superficially, converted themselves into supporters of those respective clubs.
The same can't be said for Kroenke, whose record doesn't stand up to scrutiny either. In his 71 seasons combined as a majority owner of a professional sports franchise, he has won five titles, including the two FA Cup triumphs at Arsenal. 

Let's not forget, this is a man who has been quoted as saying "if you want to win Championships then you would never get involved".
Chelsea mock United over unbeaten run
Grant said: "At his first press conference after he became the majority owner of the Rams, he vowed to keep them in St. Louis, even though his plan to move them to LA was already in action.
"He lied to his hometown for years to make some extra money, which is pretty terrible, especially when you're already a billionaire. 
"My advice to Arsenal fans: hold on tight. I know he doesn't talk to the public a lot, but whenever he does, remember his long history of lying to local markets. 
"With his legendary mismanagement of on-field products, I wouldn't be surprised to see Arsenal near the bottom of the table in a few years. But at least he can't threaten to move them to California!"