Guardiola
'What would Cruyff do?' – Guardiola's drive to learn sparked by Barcelona great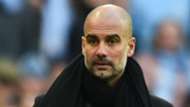 Pep Guardiola feels incomplete because he did not go to university and it was Johan Cruyff who helped spark his curiosity, according to Guillem Balague.
The Manchester City boss led his side to the Premier League title this season in spectacular fashion, winning it with five matches to spare.
However, the former Barcelona and Bayern Munich coach will want to draw something from the experience and improve his side, driven by the philosophy the Dutch icon installed in him when he was still a player.
"Pep always felt that Johan Cryuff was the guy who taught him the most. It wasn't so much about techniques. He made him think differently as a player," Balague, who has written a book on Pep, told Radio 5 Live. "So from the moment he had him as a coach, they would meet very often. 
"I've always thought Pep Guardiola feels a little incomplete because he hasn't been to university to get a degree. Because of that, he feels the absolute need and obsession to learn from everybody and to ask questions. 
"So if he meets you now, he'd ask: 'What do you think? What do you think of our team? What do you think of Leroy Sane?' You're not going to add anything to him. 
"Johan Cruyff was the guy who he always went back to when he didn't know where to go. And he still does this exercise in his mind in the middle of the game when he asks himself: 'What would Johan Cruyff do?' 
"All he's actually saying to himself there is: 'How can I think differently about what's happening here?'"
Guardiola's next challenge is a home match against Swansea, while fixtures against West Ham, Huddersfield, Brighton and Southampton follow before the season ends.