Premier League
'Wenger out means out!!' - Arsenal fans ridiculed for rubbish banner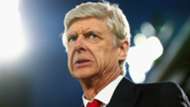 It is a golden age for small aircraft owners in the UK as rather unimaginative Arsenal fans keep them thriving in the banner business. 
The Gunners' visit to Stoke City on Saturday was once more the site for an impromptu flyover. 
Mahrez penalty divides supporters
But all evidence indicates that those behind the plane banners are really scraping the bottom of the barrel for ideas. 
"WENGER OUT MEANS OUT!!" the latest message stated, presumably to clarify for those who might think Wenger Out is an obscure type of dried pasta or the Latin translation of a Guns 'n' Roses lyric.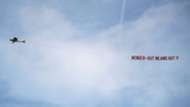 This time it seems the move has backfired, as the banner was rightly slammed by Arsenal fans on Twitter. 
"Out means out!" says the banner. Presumably it's the last thing the organiser of the plane heard his wife say to him before she left him

— Jösh (@bnjoshed) 13 de mayo de 2017
Wish Theo Walcott would stop paying for those fucking 'Wenger Out' banner planes.

As predictable as his lack of passion. #SCFCvAFC

— Keri Warbis (@KeriWarbis) 13 de mayo de 2017
The banner idiots are at it again

— Arsène Cross (@don_cross_AFC) 13 de mayo de 2017
Wife: "You've been doing a lot of overtime recently. What should we spend it on? A holiday?"

Husband: "Not while Wenger is at Arsenal" pic.twitter.com/ikMgBWZgB5

— Luke Millar (@LukeisPremium) 13 de mayo de 2017
Anybody who pays to have a plane fly above a stadium with a wacky fucking banner, should be made to jump out the same plane.

— Gary Macdonald (@Garymac03) 13 de mayo de 2017
In other news, Arsenal fans just sent another plane out.

This time with the banner: "Wengers Out - Means Out!"

Yeah. #STOARS #PL pic.twitter.com/5fdfQvG1K9

— William Hill Betting (@WilliamHill) 13 de mayo de 2017
We can only hope that the next home game sees a competing "Wenger Out Out" message flown over the Emirates Stadium, to finally put an end to this ridiculous trend.