Arsenal
'Wenger is so arrogant it's untrue' - Arsenal boss blasted for 'turning down the world' comment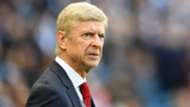 Arsene Wenger has been accused of being "so arrogant it's untrue", with the under-fire Arsenal boss blasted by Stewart Robson for claiming to have "turned the whole world down".
The long-serving Gunners boss is facing more uncomfortable questions regarding his ongoing presence at Emirates Stadium, with a 3-0 Carabao Cup final defeat to Manchester City reigniting calls for him to stand down.
Wenger has, however, faced regular protests against his reign in recent times and has stubbornly refused to walk away, with a new two-year contract penned in the summer of 2017.
He has vowed to see that agreement out, having turned down the opportunity to leave for other high-profile posts in the past, but Robson believes the 68-year-old has merely stayed put as he has things easy in north London and can dictate proceedings in a manner few other clubs would allow.
The former Arsenal midfielder told talkSPORT: "Did you see his interview? 'I've turned down the world to stay at Arsenal' - he's so arrogant, it's untrue.
"The reason he stays at Arsenal is he can do what he wants, he's not under pressure and he gets paid nearly £10 million a year – that's why he stays at Arsenal, not because he's loyal to the club.
"If he was loyal to Arsenal and loved Arsenal so much, he would have left two or three years ago."
Robson also believes that Wenger is holding back those at his disposal, with too many players stagnating.
He considers Jack Wilshere to be among them, with a man currently locked in contract extension talks advised to leave as a free agent unless he can get guarantees that a change in the dugout will be made this summer.
Robson added on the England international, who is reported to have been asked to accept a 25 per cent pay cut in order to land fresh terms: "I don't think he should stay.
"If a new manager came in, and I've been championing Antonio Conte because he's obviously going to leave Chelsea and I think he would be the ideal fit for Arsenal and give the team discipline. If that were to happen, I'd want Jack Wilshere to stay.
"But at the moment he's got to still be learning the game. The reason he hasn't produced the sort of form he should have done over the years is because he's had no guidance.
"He's a wonderful footballer but he still doesn't seem to understand the game and he lacks discipline.
"Until someone gets hold of him and teaches him that discipline, he'll always be a player with potential rather than the world-class midfielder he could be."