A-League
Wellington Phoenix ready to splash the cash to boost A-League attendance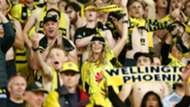 After averaging an A-League low home attendance of just 5,694 last season, Wellington Phoenix are desperate to attract more fans and are ready to pay to make it happen.
Revealed on Tuesday by the club, they've launched a 'Cash the Gate' incentive which will see one lucky fan paid out the crowd number in cash should home attendance surpass 10,000.
On top of that, an extra $1000 will be added for every goal scored and any potential Wellington hat-tricks, meaning fans could pick up quite a tidy sum should results and crowd figures go their way. One hypothetical scenario for example involving a 3-0 win, Roy Krishna hat-trick and crowd of 11,000 would see the jackpot hit $15,000.
The financial incentive comes after their most recent campaign saw their highest A-League attendance figure reach just 8,154 in Round 1 with their lowest a meager 4,312 by the final game of the season.
Their average home attendance of 5,694 was over 1000 fans fewer than the next worst club, Central Coast Mariners, and less than a third of what Melbourne Victory pulled in each week. 
It stands as Wellington's worst ever average season attendance figure with only the now defunct New Zealand Knights, Gold Coast United and North Queensland Fury boasting lower season averages.
The Phoenix haven't always struggled to pull in a crowd however, with the club pulling in an average 11,574 fans across the 2009/10 season - the third highest across the league that campaign.
With a new coach at the helm and a renewed sense of optimism, Wellington are desperate for a return of such great support and are ready to put their money where their mouth is to make it happen.
— Wellington Phoenix (@WgtnPhoenixFC) October 16, 2018