African All Stars
We would love Tammy to play for Nigeria, says Okocha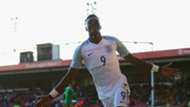 Austin Okocha has implored Tammy Abraham to choose the Nigerian national team over England.
The Chelsea loanee has already represented England in age grade competitions but is still eligible for selection for the Super Eagles.
The president of the Nigeria Football Federation had earlier announced that the Swansea City forward has agreed to wear the Green and White jersey but the striker debunked the rumours, saying he wants to remain eligible for England
However, the former Bolton Wanderers midfielder has urged the starlet to reconsider his decision and represent his fatherland especially with Nigeria on the brink of qualification for the World Cup in Russia next summer.
"Ultimately it is up to him – although clearly, we would love Tammy to play for Nigeria as we are building a strong young team," Okocha told media during Fifa's announcement of 'The Best' shortlist.
"He has to weigh up his options and whether he has a good chance of playing for England, or whether he is better off playing for Nigeria.
"The competition for a place in the England team is very tough because there are a lot of good young players now.
"For me personally I would say he should play for Nigeria as he would have a better chance of going to the World Cup.
"If he is not a good player, he won't be needed, but the bottom line is that he is a very good footballer."