I-League
''We will not listen to people who give us threats'' - Praful Patel takes aim at Aizawl FC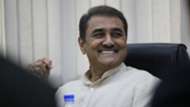 All India Football Federation (AIFF) president Praful Patel has stated that the Indian FA will not be affected by the reigning I-League champions Aizawl FC's threats with respect to their non-inclusion in the proposed unified league. Further, the 60-year-old has revealed that the road-map of Indian football is yet to be finalized hence the reactions of the club from Mizoram are a bit presumptuous. 
Q: What is your opinion on Aizawl FC's threats towards the AIFF?
PP: Firstly, I congratulate the players, the coach and the fans of football on Aizawl FC's victory. Coming to All India Football Federation's future structure- it is not even decided and you are issuing an incident! We are a working organization and we are not here to listen to people who are giving us threat. The question here is about the good of football and we (AIFF) will take all the decisions keeping the good of football in mind.
Q: What will be the future road-map of Indian football?
PP: There is no decision taken yet on the future holder of Indian football, only certain proposals have been floated for discussion. And before any decision is taken, there is no point in getting into this kind of activity or agenda. Few days back they (Aizawl FC) have won and the letter has not even reached the All India Football Federation. (If) before that they are going to (speak to) the media, then let them speak.
We (AIFF) will take all decisions based on the good of Indian football. We are not a body which belongs to a club. We are a body of sport of football for the whole of the country and it (federation) will only do things in the interest of football. We will be transparent and as I said (earlier), no decision has been taken for the future role of Indian football. How can one take this decision? (indicating at Aizawl FC's gesture). They have won the I-League, they will continue to play in the I-League. They will be qualifying for the Asian Football Championship, so they have no reason to be talking like this. And if they threaten, nobody is going to be intimidated by them.
Also read: Sports Minister to take up Aizawl FC's case over merger plans with AIFF
Q: Has the Sports Ministry approached the AIFF?
PP: Everybody has the right to talk to anybody, Sports Ministry has the right to talk to us, there's no problem. As I said, we (AIFF) are working for the interest of Indian football and Aizawl can't complain because they have won the I-League only because of the AIFF's decision of including a relegated team in the I-League. They should be the last people to complain. If they are complaining, it is unfair and unjust. Threats don't work.
Q:Will AIFF support Aizawl FC to do well in AFC Cup?
PP: First and foremost, Aizawl FC was relegated in 2016. It was AIFF which saw the passion and let them play the I-League as a special dispensation. They have won and I congratulate everyone who has contributed to Aizawl's success. It is AIFF also which has supported them because had AIFF not supported them, they wouldn't have been playing the I-League.
Now, in future, every club has to support its own funding. We do not come into the picture. AIFF has no rule in club structure, the finances of the clubs and running of the clubs. All of this is purely their own domain.  So, now that they have won the I-League, they will qualify for the AFC, let them play.  We will be happy to see an Indian club seeing as much higher as possible in the Asian ladder.
I am absolutely wanting to say something- They have said they have sent some letter to me but I have not yet received the letter. They won the league some days ago.  Some threats are being issued, AIFF doesn't get intimidated by any threat. AIFF works for the good of Indian football and the road-map of Indian football has not been decided yet- no formal structure or what will AIFF structure be next year. Today as we talk, I-League is the official league of India. And if they are the winners of the official league why are they giving threats? And if they want to threaten, AIFF will not be intimidated.
Till the new road-map is decided, the old roadmap continues, isn't it? Today nothing is decided so tomorrow, what is there today, shall continue. So, why is somebody complaining? You can complain only when something happens and you have an issue about that. You can't complain on a hypothetical situation. And if they want to complain, they want to shout, let them do so. We aren't going to be intimidated. We are for the good of the football and have taken decisions in the interest of Indian football and AIFF is very transparent and democratic.