WTF
'We need #WengerOut' - Arsenal fans' anger as Gunners miss out on Champions League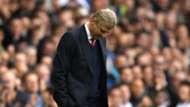 Arsenal missed out on a top four finish for the first time in 20 years under Arsene Wenger, leading many fans to call for the French manager to leave the club.
Arsenal must listen to 'Kroenke Out' protesters
Wenger has yet to sign a contract extension at the Emirates Stadium, and many supporters feel it is time for him to leave the club. On Sunday, the Gunners failed to better Liverpool's result in the Premier League, meaning they finish fifth and will not play in the Champions League next season.
While many fans had previously called for Wenger's exit, those calls grew louder with many prominent supporters including Piers Morgan weighing in on #WengerOut.
Look, I'm not going to tweet #WengerOut. But if I was to tweet #WengerOut it would be justified, because we need #WengerOut.

— Arsenal News (@__arsenalnews_) May 21, 2017
@IanWright0 So what's happening with Arsenal? Is Wenger staying? Is Kroenke leaving? We need to know, our club is embarrassing

— ㅤ (@Bellerined) May 21, 2017
Arsenal fans: "It's time for a change."

Wenger: "Consider it done, Europa League." pic.twitter.com/jm2THiln5q

— Footy Humour (@FootyHumour) May 21, 2017
Welcome Koscielny to Wenger out movement. Man took a red to get Wenger out. Also explains why he conceded so many penalties. #WengerOut

— WengerOut Bot (@WengerOut_Bot) May 21, 2017
Arsene wenger to Uefa: how many RTs to qualify for the champions league ??

UEFA: pic.twitter.com/65eHiDvYFa

— One boy like that (@la_OK3) May 21, 2017
NO round of applause from me today. This is the only scenario needed at @Arsenal #WENGEROUT #KROENKEOUT pic.twitter.com/y8cYwLe4c8

— Doublegooner (@Doublegooner) May 21, 2017
So embarrassing we're back to fighting for fourth like it's the title. #WengerOut

— Connor (@TikiTakaConnor) May 21, 2017
Dumped out of CL in 10-2 thrashing.
18pts behind PL Champions.
11pts behind Spurs.
5th.
Europa League next season. #WengerOUT

— Piers Morgan (@piersmorgan) May 21, 2017
Conte took Chelsea from 10th to 1st.

Wenger took Arsenal from 2nd to 5th having spent more. #WengerOut

— Connor (@TikiTakaConnor) May 21, 2017
Are we going to pretend like playing the Europa League isn't hugely embarrassing?

— Arsenal Report (@ArsenalReport) May 21, 2017
Arrogant fraud thinks fans are beneath him even though we pay the highest prices in the world to watch his team of cowards #WengerOut https://t.co/LMfMNKli9H

— Lying Fraud Wenger (@Wenger_Protest) May 21, 2017
Arsene Wenger finishes outside the top four #AFC pic.twitter.com/6NdEg24hgw

— Goal (@goal) May 21, 2017
However, one supporter believes the fifth-place finish is all part of Wenger's evil plan!
Wenger's planned it.

Sign a 2 year deal.
Win Europa League first year.
Win Champions League second year.

Retire a Legend.

— WH (@Wilshoholic) May 21, 2017
The Gunners boss refused to be drawn on his future in post-match interviews with Arsenal set to play Chelsea in the FA Cup final.