CAF U20 Women's Championship
'We lost to giants' - Tanzania's Nkoma concedes defeat to Nigeria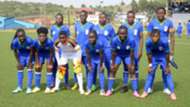 Tanzania U20 women coach Sabatian Nkoma says his side lost to a giant team after bowing 3-0 to Nigeria at the Samuel Ogbemudia Stadium in Benin City.
Lilian Tule's brilliant free kick plus Rasheedat Ajibade's brace saw the east Africans lose the first leg, first round Fifa U20 Women's World Cup qualifier on Saturday.
Nkoma, who also doubles as the senior women's team gaffer, said his team is a team for the future and promises a tough reverse fixture.
"Performance of my team was good because they are young and the match was their first international match," Nkoma told Goal.
"We lost to a giant team like Nigeria but I'm still proud of my players and we will go back home for preparation for the next game against Nigeria in Tanzania.
"First, the problem of my young players is time to mature and secondly Nigeria are solid, especially the western countries are like giants, strong and have big muscles.
"We have built a team for the future, while Nigeria players are already having experience. I believe they can do better next time. Nigeria should expect a tough match in the second leg in Dar es Salaam.
"When you talk about women's football, it is a long journey to get good players to establish themselves in the national team."