Arsène Wenger
Football world laughs at Arsenal over Wenger renewal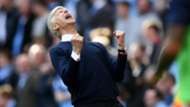 Arsenal confirmed on Wednesday that manager Arsene Wenger has signed a contract extension to remain at the club for a further two years.
FULL STORY: Wenger signs contract extension
The Frenchman's popularity with certain sections of the Gunners support has diminished in recent seasons, with news of a new contract sure to have irked those that feel the club have failed to move forward.
Goal looks at the immediate reaction to the news of Wenger's new deal, with plenty of fans expressing their frustrations on social media...
OFFICIAL: Arsene Wenger has agreed a new two-year contract at Arsenal https://t.co/WYOGRUYINR #AFC #WengerIn pic.twitter.com/BbCA9P13Hv

— Goal (@goal) May 31, 2017
Wenger wins.
I lose.
Arsenal will keep failing in any competition that matters.
Sad, mad, inexplicable day. pic.twitter.com/SkUJlF2aZl

— Piers Morgan (@piersmorgan) May 31, 2017
May 31, 2017
If you think we're going away you're sadly mistaken, every defeat will now be magnified, 2 more yrs of being laughed at and fans divided

— Mr DT © (@MrDtAFC) May 31, 2017
Parody club, enjoy Europa!

— Jordan (@JordySloan) May 31, 2017
May 31, 2017
Einstein on #AFC giving #Wenger a new contract: "Insanity is doing the same thing over & over again & expecting different results" pic.twitter.com/9TySEreCb2

— Carlo Garganese (@carlogarganese) May 31, 2017
We can confirm nothing but failure and profit for the next 2 years

— Arsenal FC (@Arsenal49News) May 31, 2017
Wenger right now pic.twitter.com/h2w32NjTxe

— ㅤㅤㅤCal~ (@ApocalypseAfc) May 31, 2017
WengerOut fans right now. pic.twitter.com/fB4MQxf3hS

— Ahmed (@AhmedShashmi) May 31, 2017
May 31, 2017
May 31, 2017
May 31, 2017
May as well give him a lifetime contract. This extension proves the club aren't rewarding good performance but purely loyalty based.

— Oli (@OliPriceBates) May 31, 2017
Every other football fan right now. pic.twitter.com/PRdkSpHVRy

— Dan (@ArsenaIDan) May 31, 2017
There are 3 things certain in life:

Death, Taxes and Wenger never winning a big trophy again

— #RIPAFC (@GoonerTiliDie19) May 31, 2017
He's going to do the exact same thing and keep the fans in the dark regarding transfer, nothings going to change.

— Honest Jaggy (@jagjitsinghmusa) May 31, 2017
What do you think of Wenger's decision to stay on at the Emirates Stadium? Have your say in the comments below!