Africa Cup of Nations Qualification
Watch Lebogang Phiri's mother Tshidi on Bafana Bafana's winning goal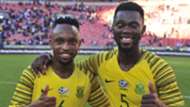 South Africa beat Sudan 1-0 in their second Africa Cup of Nations (Afcon) qualifying fixture.
Bafana Bafana picked up the three points in Soweto at Orlando Stadium on Sunday afternoon, thanks to a goal scored by Lebogang Phiri.
The midfielder's mother, Tshidi can be seen on Twitter beaming about her son's goal against Sudan.
Two videos from the interview were posted by journalist Joe Crann on social media and we share it with you below. Tshidi Phiri couldn't be prouder of her "sweet" and "humble" boy.
For those of you who missed the match and the goal, Caf's official Twitter account shared the highlights for us and we can catch it again below.
From the Bafana Bafana official Twitter account, we share a video of South Africa's dressing room.
📽 Highlights for the #TotalAFCONQ2021

🇿🇦 South Africa 1-0 Sudan 🇸🇩 pic.twitter.com/fKoB3hjRzF

— CAF (@CAF_Online) November 17, 2019
Thé best thing yet 😍😍😍 you go get them mom 😂😂😂 https://t.co/TJsmbSmT1g

— Lebogang Phiri (@Lebhino6) November 17, 2019
"My neighbours, they've SMS'd and called and Whatsapp'd saying, 'We saw your son on TV!'

Tshidi Phiri, mother of Lebo Phiri, on watching him score his first goal for #Bafana in the win v Sudan in today's #AFCON2021 qualifier - wasn't tough to spot her in a @EAGuingamp shirt!🇿🇦⚽️ pic.twitter.com/u62ijXIzag

— Joe Crann (@YesWeCrann) November 17, 2019
A sneak preview into Bafana Bafana's dressing room ahead of their @caf_online AFCON qualifier match against Sudan today at 3pm. Catch the action live on @SPORTATSABC pic.twitter.com/pjBb9SaI8M

— Bafana Bafana (@BafanaBafana) November 17, 2019