CAF Confederation Cup
Wasiu Alalade refuses to boast despite inspiring Enyimba win over CARA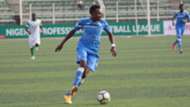 Wasiu Alalade chooses to remain humble despite his lone strike which handed Enyimba a 1-0 win over CARA Brazzaville in the Caf Confederation Cup encounter in Aba on Wednesday.
Alalade put up a virtuoso performance despite coming on as a substitute at the Aba Stadium, scoring at the death as the People Elephants subdued the Congolese in their final group C match.
It was the timely finish of the 19-year-old in the 95th minute that guaranteed a quarterfinal spot for Usman Abdullah's men.
"It was a great joy for my goal and more especially our qualification to the quarterfinal of the Caf Confederation Cup," Alalade told Goal.
"It was a tough game and both teams really played well but God gave us the victory. It was just divine that I found myself at the right place at the right time and I just did not waste the time to make opportunity count. However, I must say our victory was a team effort.
"It could have been anyone but God chose me to score and bring joy to our fans and Nigerians. The goal means a lot to me and I'm glad helping the team to qualify but I know that my best is yet to come.
"I won't relent by God's grace as I hope to do more for my club this season.
"I appreciate everyone who have encouraged me and I am assuring them that I will not rest or relent until I reach the greatest height of my career. I want to thank the fans who came out in good number to cheer us to victory.
"It was a great joy for the team to bring smiles to the faces of our fans as well as Nigerians for remembering us in their prayers and urged them to remain supportive. Glad we are through to the quarterfinal and I assure we will keep working hard to win this year's competition."