Orlando Pirates
Vincent Pule: Pressure will be on Orlando Pirates to overcome Light Stars in the Caf Champions League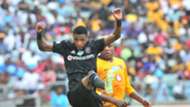 As Orlando Pirates shift their focus onto their Caf Champions League assignment with a clash against Seychelles' Light Stars FC on Wednesday evening, midfielder Vincent Pule anticipates a tough ecounter.
Pule was still with Bidvest Wits when they defeated the side from the Island 9-0 on aggregate in the Caf Confederation Cup two years ago, but he has warned his teammates of not taking their opponents for granted. 
"I remember the match against Light Stars. Some might think because we previously won that game 6-0 our game on Wednesday will be a walkover but I've already told my teammates that this is one team that we cannot afford to underestimate," Pule told Pirates' website.
Fresh from a 2-1 win over fierce rivals Kaizer Chiefs on Saturday in the Telkom Knockout Cup semi-final, the Buccaneers will be motivated to continue winning run and show that they are one of the big guns on the continent.
"Teams like this have nothing to lose…the players give it their all and because they have nothing to lose; they have no pressure. The pressure will be all on us," he added.
"We need to show we are a big team and we can only do so by dominating the match from the first whistle. We cannot afford to underestimate them," warned Pule.
"Furthermore, two years is a long time in football. The team that Wits played two years ago will not necessarily be the team that Pirates face on Wednesday," he continued.
"The same can be said for us at this stage; we have gone from failing to qualify for the top eight to finishing second and competing in the Champions League a year later," concluded Pule.