Ligue 1
VIDEO: Bastia star sent off for lashing out at fourth official's electronic board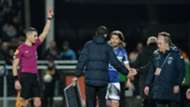 A player in Ligue 1 learned you can't mess with technology and hope to come out on top, especially if that tech belongs to the fourth official.
Yannick Cahuzac of SC Bastia was on his way off the pitch after being substituted with an injury when he may have been caught in the face by the fourth official's electronic board. Angered over the incident, he slapped the board out of the official's hands.
VIDEO: Falcao denied wonderful bicycle kick goal
That naturally did not sit well with the fourth official, who signalled over to the match referee. Cahuzac, despite his protests, was issued his walking papers just minutes after being removed from the match anyway!
"I think the referee did not intentionally put the sign on him," Bastia coach Francois Ciccolini said after the game.
It was nothing new for the Bastia captain, who has been sent off three times in four matches and had just returned from a previous suspension. He's also seen red 10 times since the 2013-14 campaign. It seems safe to say Cahuzac may need to work on his temper going forward.
It was a lousy night for Bastia too as the side lost 3-0 to Angers SCO and sit 19th in the Ligue 1 table.