UEFA Champions League
VIDEO: Lionel Messi and Roberto Firmino - The Ones to Watch in UEFA Champions League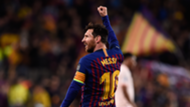 The second UEFA Champions League semi-final is looming large, with Barcelona and Liverpool preparing to face off at Camp Nou this evening.
Both teams will strive to put one foot in the final in a month's time, but who will rise up above the rest and be crowned the UEFA Champions League Player of the Week, sponsored by Banco Santander?
Lionel Messi has been in sparkling form for Barcelona, scoring 10 goals and providing in just eight matches as he seeks to drag the Blaugrana to a sixth UCL title.
Many have marvelled at Messi's performances, which have seen him named as the UEFA Champions League Player of the Week an astonishing four times - three more than any other player.
For Liverpool, Roberto Firmino has been flourishing on Europe's biggest stage. The Brazilian forward has been involved in 21 UCL goals since the start of last season; no player has been involved in more.
Voting for Player of the Week opens on Thursday.
Follow Football Santander on Facebook, Twitter and Instagram for continued coverage of the UEFA Champions League.