Premier League
VIDEO: Bellerin channels his inner Messi with basketball trick shot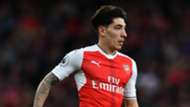 ---
EXTRA TIME
---
In October 2016, footage emerged of Barcelona superstar Lionel Messi nonchalantly chipping a football through a basketball hoop.
Barely an eyelid was batted as one of the finest sportsmen on the planet showed it does not matter where the net is or how small the target may be, he will still hit it.
The magic of Messi is one thing, something that we have all come to admire and respect down the years.
Slam dunk! Messi scores outrageous basket
The brilliance of Bellerin, though, may have been overlooked.
Arsenal's jet-heeled Spaniard is widely regarded as one of the finest full-backs in the Premier League, with his pace and energy having seen him enjoy a meteoric rise over recent years.
Bellerin has, however, been showing during a visit to the latest NBA showpiece in London that he is much more than merely a defender and anything Messi can do, he can do better.
Swishh.. #NBALondon pic.twitter.com/yibhuP8RwQ

— Héctor Bellerín (@HectorBellerin) January 12, 2017
He is rightly applauded for his efforts by those in attendance, with Arsenal team-mate Alex Oxlade-Chamberlain left hanging for some time before he gets in on the act.