African All Stars
Victor Wanyama to raise funds for ailing Uganda legends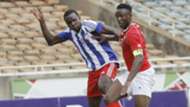 Harambee Stars captain and Totttenham Hotspurs midfielder, Victor Wanyama is set to visit neighboring Uganda in July, 2017, for a Charity match to raise money for ailing Ugandan football legends.
Wanyama, who just returned to the country from Tanzania where he was honored by street named after him before the decision was reversed, is set to visit Uganda between July 7 and July 8 to grace a charity match organized by Ugandan music icon, Eddy Kenzo.
Winner of re-branded tourney to dine with Victor Wanyama
The two matches will be between friends of footballer turned musician Eddy Kenzo and Ugandan football legends and will be staged at Masaka recreational stadium on July 7th and another one at Phillip Omondi stadium, Lugogo the following day.
"When Wanyama visits, Uganda's retired football legends as Sulaiman Mutyaba, Hassan Mubiru, David Obua, Steven Bengo, Hakim Magumba, Paul Mukatabala and Edward Kalungi will take to the field alongside some active players," Kenzo was quoted on Ugandan sports website, Kawowo sport.
A few active players like Saddam Juma and Tonny Mawejje will also feature in the charity matches though it is not yet clear whether Wanyama will play.