United States
Arena: CONCACAF has 'the stupidest card rules'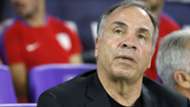 ORLANDO, Fla. — A 4-0 rout of Panama may have left Bruce Arena in a buoyant mood Friday, but the U.S. national team coach still found himself irked by a quirk of CONCACAF's World Cup qualifying format.
Arena criticized the confederation's harsh penalty for yellow card accumulation, which sees a player earn a one-game suspension for receiving two cards at any point in the qualification process.
The U.S. played its 15th match on the road to Russia 2018 on Friday, with nine of the 23 players dressed for the match — including starters Michael Bradley, Matt Besler, DeAndre Yedlin and Paul Arriola — one card away from a ban.
"A lot of people don't realize this — they have the stupidest card rules," Arena said. "So we're at [16] games now. If you got a yellow card in game one and picked one up tonight, you'd be suspended for game [16]. It's the stupidest — I don't understand it. I'm just happy I haven't been around this stuff for a lot of years because I'd lose my mind."
The U.S. avoided any bookings at Orlando City Stadium while Panama earned three yellow cards on a night American star Christian Pulisic absorbed several fouls.
Although the strict suspension rules would theoretically limit excessive physicality, Arena floated out the possibility that referees hesitate to hand out cards because they're aware of the harsh effect a booking could have.
"Our players can't take a card, really," Arena said. "It happens the whole competition. For some reason then the referees aren't giving out yellow cards too because they realize that players will be suspended the next game.
"So we never know what kind of mentality the referee is going to bring, what kind of posture we can take. We have to be smart. We can't lose Michael Bradley going in and whacking someone retaliating on a foul on Christian."