FA Cup
'UiTM's only advantage was their foreign players' - PJ Rangers' Mat Zan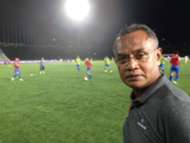 ---
BY        ZULHILMI ZAINAL       Follow on Twitter
---
Petaling Jaya Rangers FC head coach Mat Zan Mat Aris was still optimistic despite his team's 2-1 defeat to Premier League side UiTM FC, in their round two FA Cup clash on Tuesday.
The Rangers were defeated at the MBPJ Stadium, when they conceded a last-minute goal by Do Donghyun. UiTM earlier opened the scoring in the 48th minute through Afif Asyraf, but the home side equalised in the 70th minute through Faizwan Abdullah's goal.
Speaking in the post-match press conference, Mat Zan said that his charges, who compete in the FAM Cup, put up a good fight against a side who fielded three foreign players, when they themselves have no foreigner on their roster. Clubs in Malaysia's third tier are only allowed to sign local players.
"I am definitely a little disappointed, but in overall, playing against a Premier League side that fielded foreign players, I can safely say we put a good fight.
"That's UiTM's only advantage over us, that they had import players. We still created space and equalised, so I am satisfied by the players' commitment," said Mat Zan.
However he was a little upset that a number of his men were injured in the match due to the visitors' aggresive style of play, as the Rangers are going to kick-off their 2017 FAM Cup campaign this Sunday.
"I'm a little disappointed that a number of my players were hurt, as we could see that UiTM played aggressively, considering on the 19th (February) we will be playing Sungai Ara FC," he added.
Rangers captain Zamri Hasan meanwhile added that his teammates' loss of focus led to UiTM's two goals.
"In football, the first and last ten minutes are very crucial. We lost our focus in the first 10 of the second half which led to the opponents' first goal, but we then still managed to equalise.
"However in the final 10 minutes we became complacent again (and conceded). We should have maintained our attention, instead of playing too casually," explained the 35-year old striker.