U17 World Cup
U17 World Cup: Praful Patel - 'There will be six AIFF academies across the country'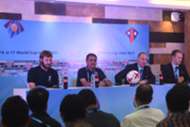 AIFF President  Praful Patel on Thursday laid down plans to strengthen the grassroots program in India following India's maiden appearance at the FIFA Under-17 World Cup.
The AIFF supremo was speaking at the tournament wrap-up press conference in Kolkata where he was joined by Tournament Director Javier Ceppi an Head of FIFA tournament Jaime Yarza.
Patel said that grassroots development of the game in India was one of the primary reasons behing hosting the U17 World Cup.
"We have invested heavily in our grassroots developments and this is one of the reasons why we hosted this U17 World Cup. It was an effort to continue to keep our focus on the grassroots developments and attract the younger kids of all age groups to the game. Younger we catch the better for the game.
"FIFA and AIFF will continue working together so that our grassroots program gets benefited," Patel told the media.
The AIFF President also talked about seting up a national centre of excellence and remarked that he would be seeking the support of FIFA in implementing the project which should be completed in two-years time.
"We are setting up a national centre of excellence in the near future. I've spoken to the FIFA for all support they can provide. It will be the home for the senior national team, the youth teams as well as the women's national team. I think it will be ready in 2 years time. It will be a further boost to our developmental activities.
"There will be 6 AIFF academies across the country. We will be housing young boys between the age group of 13-15, depending on what kind of academy we are setting up," Patel said.
Patel also said that the current Under-17 will continue to get the same facilities and backing as they have received before and during the World Cup with plans in the pipleline for creating a new U17 team from the current Under-13 and Under-14 age-groups.
"The current U17 side will continue to get the same facility that they got before and during the world cup," the AIFF Preseident said.
"We will create another U17 team in the age group of 13, 14 starting from now so that the process does not get stagnated. The new team will get the same facility which the current team got," he added.