U17 World Cup
U17 World Cup: Javier Ceppi - 'Nothing could be done in Guwahati'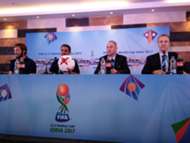 Javier Ceppi spoke about the situation in Guwahati that forced FIFA to shift the venue for the semi-final between Brazil and England, revealing that there was no other option other than a change of venue. The tournament director of FIFA U-17 World Cup 2017 was speaking at a presser in Kolkata earlier today.
The ground conditions were deemed to be unsatisfactory due to consistent rainfall in Guwahati and after inspection, the semi-final match, which did take place as per schedule, was shifted to Kolkata on short notice.
"Regarding Guwahati, the reality is that there was a depression in Bangladesh. It rained for 48 hours. No ground in the world could have organised a match in such conditions." revealed Ceppi.
"Guwahati has a clay-based ground. I can assure you the drainage pipes under the ground were clean, we verified that. The construction of the Guwahati pitch is the best in the country. It has been the best pitch in ISL for 2 years running. It was just unfortunate chain of events that happened. We tried everything. I don't we could have done anything else."
Kolkata saw a crowd of over 60000 attend the match between Brazil and England, wherein Liverpool starlet Rhian Brewster scored a hat-trick to send the Young Lions into the final.
Spain defeated Mali in the other semi-final match that took place in Mumbai. The final between England and Spain is scheduled for an 8 PM kick-off in Kolkata on October 28.